Click to download audio version
Subscribe to the Let's Talk Bitcoin! Network Feed
SovereignBTC is your guide to the practical side of everyday Bitcoin use.
SovereignBTC Episode 4 shownotes – Bitcoin Revolutionaries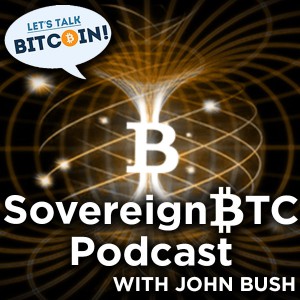 This weeks episode of SovereignBTC is jam packed with Bitcoin enthusiasts and world changers!  We report from
Liberty Forum 2014
put on by the
Free State Project
.  Last year, Liberty Forum and the Bitcoin enthusiasts in attendance played a big role in turning myself, and Jefferey Tucker, on to Bitcoin.  This year was much of the same.  We start the show off by exploring the vendor area and talking with people who accept bitcoin about why it benefits their businesses and why they love it. We hear from: Davi Barker of
Shiny Badges
and
Bitcoin Not Bombs
Neal and Matt of the
Lamassu Bitcoin ATM
Ian Freeman of
Free Talk Live
and the
Keene Bitcoin Network
Stephen Macaskill of
Amagi Metals
Jillian Batty of
Stateles Sweets
Mark Edge of
Free Talk Live
We then hit you with this weeks Bitcoin Tip of the Week on Transaction Fees Next we hear from Patrick Byrne, CEO of
http://overstock.com
Then we bring you this weeks quote of the week, with assistance from a very special guest. Finally, we present this weeks featured interview with Cody Wilson of
Defense Distributed
and
UnSystem
, the creators of Dar Wallet. Thanks again for listening to SovereignBTC, your guide to the practical side of everyday Bitcoin use! Website:
http://sovereignbtc.com
Facebook:
http://facebook.com/sovereignbtc
Twitter:
http://twitter.com/sovbtc
LIVE FREE AND PROSPER!
Views: 1,137