Click to download audio version
Welcome to episode 9 of Sex & Science Hour, with Brian Sovryn and Dr. Stephanie Murphy! Subscribe to the Let's Talk Bitcoin! Network Feed
Sex and Science Hour – Episode 009 – Local Altcoins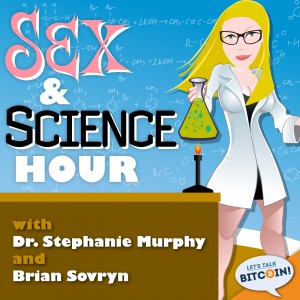 Show notes and links:
Harvard has skin books. For academic purposes, of course. Meanwhile, a politician wants divorcees to ask the government's permission before sex. A man pummels his teen stepdaughter's lover. Lots of adult websites accept bitcoin, but nobody's talking about it - why? A little girl is too butch for her religious school. And a person thinks child-free people should pay more taxes. Sure, we'll get right on that. A listener wonders how to subscribe to just our show. Isracoin inspires a discussion about local cryptocurrencies and the "buy local" movement. Atheists are underrepresented among the US prison population. And some cops are upset that they can no longer do it with sex workers on the job. Boo hoo!
What is the world coming to?
Email us feedback, comments, show prep, and relationship questions: [email protected]
Want to sponsor the show? [email protected]
Send us a tip! Many thanks. :) BTC: 1Mspme73vwRpRTaTRV9zsGe9PtrFZhH7KD LTC: LUJrbfPf9v6212FuA1yBscDbidX1UcpNFo NXT: 16172315048100850736 NAMECOIN: NHfN1kpj8G9aUCCHuummBKa8mPvppN1UFa BITSHARES PTS: PtTy4odKrFq6afXyU3459kNetonztAu6Lk
Tip us for free by doing your normal shopping on Amazon US (http://goo.gl/U9sUSu) Amazon UK (http://goo.gl/bkLKpZ) or Amazon Canada (http://goo.gl/YDLW2e).
Thanks to rolemusic for the awesome chiptunes heard in the show! (http://rolemusic.sawsquarenoise.com/)
Thanks for tuning in!
Views: 1,591