Click to download audio version
Welcome to episode 7 of Sex & Science Hour, with Brian Sovryn and Dr. Stephanie Murphy! Subscribe to the Let's Talk Bitcoin! Network Feed
Sex and Science Hour - Episode 008 - Bitcoin Burlesque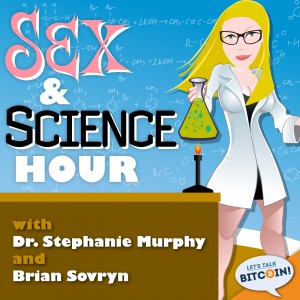 Show notes and links:
Yet another reason to date a hacker - Arduino controlled, um, personal massagers! Were you wondering why your phone was overheating? It might be part of a crypto mining botnet. A listener reports that a tantalizing tweet from a bitcoin meetup with burlesque dancers has ignited a twitter war. We give our take. Lightbulb drama! We heat up the planet with a segment about climate change, recycling, and Carbon Coin. Who has higher risk of cancer, allergies, and heart attacks - carnivores or vegetarians? (The answer, according to one study, may surprise you.) And a listener writes to say that gold is here to stay. We discuss.
Email us feedback, comments, show prep, and relationship questions: [email protected]
Want to sponsor the show? [email protected]
Send us a tip! Many thanks. :) BTC: 1Mspme73vwRpRTaTRV9zsGe9PtrFZhH7KD LTC: LUJrbfPf9v6212FuA1yBscDbidX1UcpNFo NXT: 16172315048100850736 NAMECOIN: NHfN1kpj8G9aUCCHuummBKa8mPvppN1UFa BITSHARES PTS: PtTy4odKrFq6afXyU3459kNetonztAu6Lk
Tip us for free by doing your normal shopping on Amazon US (http://goo.gl/U9sUSu) Amazon UK (http://goo.gl/bkLKpZ) or Amazon Canada (http://goo.gl/YDLW2e).
Thanks to rolemusic for the awesome chiptunes heard in the show! (http://rolemusic.sawsquarenoise.com/)
Thanks for tuning in!
Views: 1,568