Click to download audio version
Welcome to episode 6 of Sex & Science Hour, with Brian Sovryn and Dr. Stephanie Murphy!
Subscribe to the Let's Talk Bitcoin! Network Feed
Sex and Science Hour - Episode 006 - Forced Into Church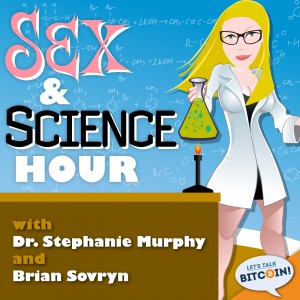 Show notes and links:
A devoted listener recounts their Sex & Science Hour outreach mission. Western Union thinks Bitcoin is too first worldly, while Goldman Sachs thinks it doesn't offer any advantage over gold. Yawn. Meanwhile, what's actually stopping Bitcoin in Africa? Three guesses. In the land of the not-so-free, sex workers are being hauled off church in handcuffs with the ultimatum of, "repent or go to jail." Speed reading apps - useful tech or the fast food of reading? A listener ponders whether it's OK to date his friend's sister. Litecoin rally! We talk about the future of altcoins, and altcoin price maintenence cost as a metric. And finally, a study shows that investment pitches just sound more fundworthy when they are delivered by attractive men.
Is there no hope for humanity?
Email us feedback, comments, show prep, and relationship questions: [email protected]
Want to sponsor the show? [email protected]
Send us a tip! Thanks. :) BTC: 1Mspme73vwRpRTaTRV9zsGe9PtrFZhH7KD LTC: LUJrbfPf9v6212FuA1yBscDbidX1UcpNFo NXT: 16172315048100850736 NAMECOIN: NHfN1kpj8G9aUCCHuummBKa8mPvppN1UFa BITSHARES PTS: PtTy4odKrFq6afXyU3459kNetonztAu6Lk
Tip us for free by doing your normal shopping on Amazon US (http://goo.gl/U9sUSu) Amazon UK (http://goo.gl/bkLKpZ) or Amazon Canada (http://goo.gl/YDLW2e).
Thanks to rolemusic for the awesome chiptunes heard in the show! (http://rolemusic.sawsquarenoise.com/)
Thanks for tuning in!
Views: 1,906