Click to download audio version
Welcome to episode 5 of Sex & Science Hour, with Brian Sovryn and Dr. Stephanie Murphy!
Subscribe to the Let's Talk Bitcoin! Network Feed
Sex and Science Hour - Episode 5 - Leave Satoshi Alone!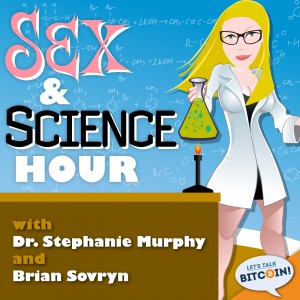 Show notes and links:
A Russian listener confirms our suspicions about the theme song Poor, poor Dorian Nakamoto - NewsWeak's sacrificial lamb NSA impersonates Facebook to take over your computer Study shows that not hiding porn use is best Chris Kresser says bacon won't hurt you! Ethereum starts testnet mining and is getting lots of coverage, like this. A listener emails asking if we want to live independently or have the government take care of all our needs - what do you think we said? Brian and Stephanie's other projects - Sovryn Tech, Free Talk Live, and Let's Talk Bitcoin Sex addiction myths.
Email us feedback, comments, show prep, and relationship questions: [email protected]
Want to sponsor the show? [email protected]
Thanks to rolemusic for the awesome chiptunes heard in the show! (http://rolemusic.sawsquarenoise.com/)
Send us a tip! Thanks. :) BTC: 1Mspme73vwRpRTaTRV9zsGe9PtrFZhH7KD LTC: LUJrbfPf9v6212FuA1yBscDbidX1UcpNFo NXT: 16172315048100850736 NAMECOIN: NHfN1kpj8G9aUCCHuummBKa8mPvppN1UFa BITSHARES PTS: PtTy4odKrFq6afXyU3459kNetonztAu6Lk
Tip us for free by doing your normal shopping on Amazon US (http://goo.gl/U9sUSu) Amazon UK (http://goo.gl/bkLKpZ) or Amazon Canada (http://goo.gl/YDLW2e).
Thanks for tuning in!
Views: 1,584