Click to download audio version
Welcome to episode 4 of Sex & Science Hour, with Brian Sovryn and Dr. Stephanie Murphy! Subscribe to the Let's Talk Bitcoin! Network Feed
Episode 4 show notes and links: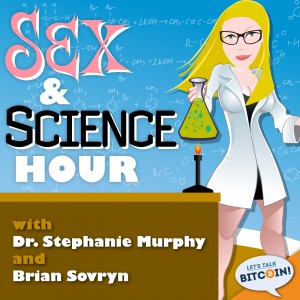 The TSA is targeting bitcoin people. We report from the front lines of the war on masturbation. A baby (legally) has 3 parents. A silly politician wants to ban bitcoins. A listener writes in about bi men. Complete genes from food may be able to enter people's bloodstreams? Selfies spread lice? Bitcoin is the next silicon valley? How to stop caring what people think.
Thanks to rolemusic for the awesome chiptunes heard in the show, and for commenting on episode 2! (http://rolemusic.sawsquarenoise.com/)
Email us feedback, comments, show prep, and relationship questions: [email protected]
Send us a tip! Muchas Gracias. BTC: 1Mspme73vwRpRTaTRV9zsGe9PtrFZhH7KD LTC: LUJrbfPf9v6212FuA1yBscDbidX1UcpNFo NXT: 16172315048100850736 NAMECOIN: NHfN1kpj8G9aUCCHuummBKa8mPvppN1UFa BITSHARES PTS: PtTy4odKrFq6afXyU3459kNetonztAu6Lk
Or if you still use the fiat, tip us for free by doing your normal shopping on Amazon US (http://goo.gl/U9sUSu) Amazon UK (http://goo.gl/bkLKpZ) or Amazon Canada (http://goo.gl/YDLW2e)
Thanks for tuning in!
Views: 1,858