Click to download audio version
Welcome to episode 13 of Sex & Science Hour, with Brian Sovryn and Dr. Stephanie Murphy! Subscribe to the Let's Talk Bitcoin! Network Feed
Sex and Science Hour – Episode 013 – Baker's Dozen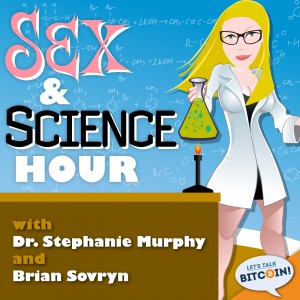 Show notes and links:
Feeling less enthusiasm and "community" in the bitcoin world. Are we just whiny hipsters? A study sheds light on how people hear about bitcoin, what they think, and how they act on their opinions. GoldBugs? Bacteria that convert gold chloride into gold. Is it the end of scarcity? Come rain or snow… Outbox will be crushed by the state. "I have a boyfriend." Does it really mean what you think it means? Study says men prefer less makeup on women. Want to be happier? Science has answers on how.
Did you hear about The Squatty Potty? (http://www.squattypotty.com/?Click=52862)
Email us feedback, comments, show prep, and relationship questions: [email protected]
Want to sponsor the show? [email protected]
Tips very much appreciated! :) BTC: 1Mspme73vwRpRTaTRV9zsGe9PtrFZhH7KD LTC: LUJrbfPf9v6212FuA1yBscDbidX1UcpNFo NXT: 16172315048100850736 NAMECOIN: NHfN1kpj8G9aUCCHuummBKa8mPvppN1UFa BITSHARES PTS: PtTy4odKrFq6afXyU3459kNetonztAu6Lk
Tip us for free by doing your normal shopping on Amazon US (http://goo.gl/Qjd7wI) Amazon UK (http://goo.gl/bkLKpZ) or Amazon Canada (http://goo.gl/YDLW2e).
Thanks to rolemusic for the awesome chiptunes heard in the show! (http://rolemusic.sawsquarenoise.com/)
Thanks to you for tuning in!
Views: 2,640