Click to download audio version
Welcome to episode 12 of Sex & Science Hour, with Brian Sovryn and Dr. Stephanie Murphy! Subscribe to the Let's Talk Bitcoin! Network Feed
Sex and Science Hour – Episode 012 – The Road to Hell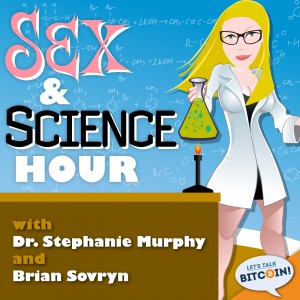 Show notes and links:
First, a listener calls us out, asking, why do we bother bleeping? Banks are shutting down accounts of adult film actors and other legal businesses. Three guesses what we propose as a solution. DarkWallet Alpha version is out. Is this the solution to greater financial privacy? A poll shows that half of people are unhappy with where they live, but fewer than 20% plan to actually move. MIT students are getting free bitcoins. Without government, who will build the roads? Maybe this guy, and it will have solar panels. Finally, we discuss the important topic of weird body things that may or may not be associated with sexual proclivities. Did you hear about The Squatty Potty? (http://www.squattypotty.com/?Click=52862)
Email us feedback, comments, show prep, and relationship questions: [email protected]
Want to sponsor the show? [email protected]
Tips very much appreciated! :) BTC: 1Mspme73vwRpRTaTRV9zsGe9PtrFZhH7KD LTC: LUJrbfPf9v6212FuA1yBscDbidX1UcpNFo NXT: 16172315048100850736 NAMECOIN: NHfN1kpj8G9aUCCHuummBKa8mPvppN1UFa BITSHARES PTS: PtTy4odKrFq6afXyU3459kNetonztAu6Lk
Tip us for free by doing your normal shopping on Amazon US (http://goo.gl/Qjd7wI) Amazon UK (http://goo.gl/bkLKpZ) or Amazon Canada (http://goo.gl/YDLW2e).
Thanks to rolemusic for the awesome chiptunes heard in the show! (http://rolemusic.sawsquarenoise.com/)
Thanks to you for tuning in!
Views: 2,780