Click to download audio version
Welcome to episode 11 of Sex & Science Hour, with Brian Sovryn and Dr. Stephanie Murphy! Subscribe to the Let's Talk Bitcoin! Network Feed
Sex and Science Hour – Episode 011 – Snake Oil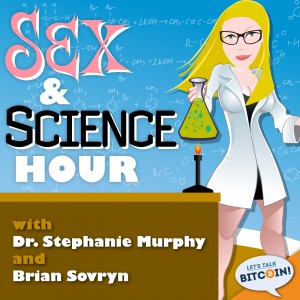 Show notes and links:
New Hampshire politicians finally got around to repealing an adultery law. Condi Rice is in your dropbox. Maidsafe crowdfunds itself and then some. Look, up in the sky. It's a bird… it's a plane… it's Bitcoin! Fixing DNA typos may now be possible. Lab rats make love, not war. "Extra Virgin Olive Oil" may not be extra virgin, and may not even be olive oil. Speaking of oil, a listener is thinking about which ones to use for non-virgin activities. Finally, the real reason why you may be unemployed.
Email us feedback, comments, show prep, and relationship questions: [email protected]
Want to sponsor the show? [email protected]
Send us a tip! Many thanks. :) BTC: 1Mspme73vwRpRTaTRV9zsGe9PtrFZhH7KD LTC: LUJrbfPf9v6212FuA1yBscDbidX1UcpNFo NXT: 16172315048100850736 NAMECOIN: NHfN1kpj8G9aUCCHuummBKa8mPvppN1UFa BITSHARES PTS: PtTy4odKrFq6afXyU3459kNetonztAu6Lk
Tip us for free by doing your normal shopping on Amazon US (http://goo.gl/U9sUSu) Amazon UK (http://goo.gl/bkLKpZ) or Amazon Canada (http://goo.gl/YDLW2e).
Thanks to rolemusic for the awesome chiptunes heard in the show! (http://rolemusic.sawsquarenoise.com/)
Thanks for tuning in!
Views: 2,879