Click to download audio version
Welcome to episode 10 of Sex & Science Hour, with Brian Sovryn and Dr. Stephanie Murphy! Subscribe to the Let's Talk Bitcoin! Network Feed
Sex and Science Hour – Episode 010 – FaceBucks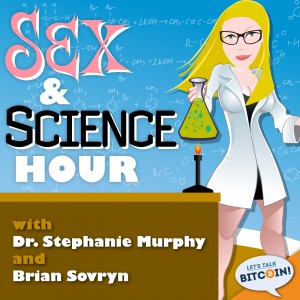 Show notes and links:
We not only survived a bunch of traveling, but also made it to Episode 10! After some brief chatting about our experiences on the road, we discuss how AirBnB, 9Flats, Uber, Lyft, and Sidecar are decentralizing short term housing and transportation... if only governments would get out of the way! Facebook wants to issue their own value token? Amazon says they're not going to accept bitcoin, but will they just make their own coin instead? Lab-grown vaginas are now a reality for those who need them. We discuss some solid pointers on bitcoin evangelism. And squeaking in before the end of the show, bitcoin ATMs are being decentralized, empowering peer-to-peer trading.
It's a brave new world.
Email us feedback, comments, show prep, and relationship questions: [email protected]
Want to sponsor the show? [email protected]
Send us a tip! Many thanks. :) BTC: 1Mspme73vwRpRTaTRV9zsGe9PtrFZhH7KD LTC: LUJrbfPf9v6212FuA1yBscDbidX1UcpNFo NXT: 16172315048100850736 NAMECOIN: NHfN1kpj8G9aUCCHuummBKa8mPvppN1UFa BITSHARES PTS: PtTy4odKrFq6afXyU3459kNetonztAu6Lk
Tip us for free by doing your normal shopping on Amazon US (http://goo.gl/U9sUSu) Amazon UK (http://goo.gl/bkLKpZ) or Amazon Canada (http://goo.gl/YDLW2e).
Thanks to rolemusic for the awesome chiptunes heard in the show! (http://rolemusic.sawsquarenoise.com/)
Thanks for tuning in!
Views: 2,040