Click to download audio version
This is the first ever episode of Sex & Science Hour, with Brian Sovryn and Dr. Stephanie Murphy!  Don't miss a show!
Subscribe to the Let's Talk Bitcoin! Network Feed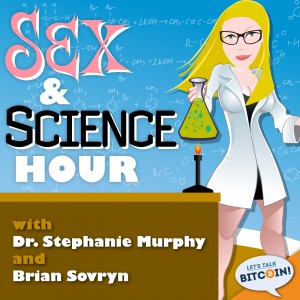 Email us feedback, comments, show prep, and relationship questions:
[email protected]
Episode 1 notes and links:
Blood + acid = stem cells and 3D printed organs?
Selling on LocalBitcoins makes us all felons
Her favorite position is CEO
CVS decides cigarettes are bad m'kay?
Bitcoin ECG device unlocks with your heartbeat
Google Plus creepsters Intermittent fasting for fun and profit
Creationist Memes
Gox me once, shame on me, Gox me twice… well, you can't Gox me twice
Thanks for tuning in! Awesome chiptunes that you heard in the show are by 
rolemusic
!
Send us a tip! How exciting! Thank you in advance.
BTC: 1Mspme73vwRpRTaTRV9zsGe9PtrFZhH7KD LTC: LUJrbfPf9v6212FuA1yBscDbidX1UcpNFo NXT: 16172315048100850736 NAMECOIN: NHfN1kpj8G9aUCCHuummBKa8mPvppN1UFa BITSHARES PTS: PtTy4odKrFq6afXyU3459kNetonztAu6Lk
Views: 2,147