[caption id="attachment_544" align="aligncenter" width="791"]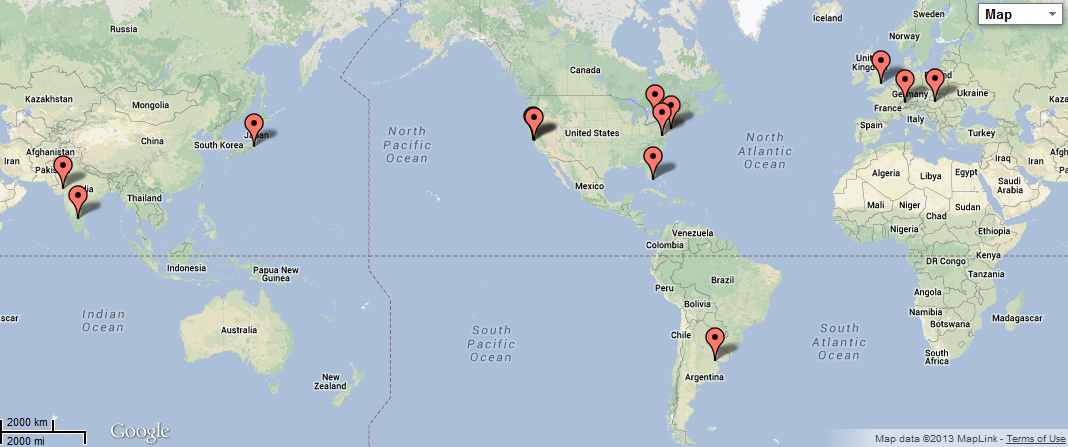 The 13 most active Bitcoin meetups, according to Bitcoin Examiner. Most (but not all) of the meetups are "Satoshi Square" open-air bitcoin marketplaces.
[/caption]
By Dan Roseman
Josh Rossi is a 31-year old bitcoin aficionado and is known for starting an online thread that later become known as "Satoshi Square" - an increasingly popular global network of local bitcoin meetups and exchanges. In what he describes as an "homage to Wall Street," Josh and several others met in Union Square Park, NY. on May 6, 2013 to hold the very first Satoshi Square open-air marketplace for bitcoins. Participants traded bitcoins for dollars, as well as goods such as shirts, silver, and USB Block Erupters. Since then, the Satoshi Square concept has gone global. The Satoshi Square market size, however is still relatively small. One of the biggest challenges faced by a small marketplace is low liquidity. With rare exception, Satoshi Square meetups are really meant for smaller transactions and do not have the ability to facilitate large volume orders or handle large sums of money. The one exception, according to Rossi, was a $10,000 transaction that occurred at a Satoshi Square meetup. That transaction, however, is a pebble in the pond when compared to Mt. Gox's
almost $2m
in daily volume. Satoshi Square offers three benefits on a local level that online exchanges cannot: accessibility to bitcoins, education on bitcoins, and visibility of the bitcoin community. In terms of accessibility, Satoshi Square provides instant access to bitcoins for those that have not jumped through the hoops to setup an account at an exchange. And for those who are new to bitcoin, Satoshi Square presents an opportunity to learn from those in the know. Lastly, the mere physical presence of a Satoshi Square meetup is evidence that people value the digital currency enough to leave the comfort of their home in order to meet like-minded people and trade in bitcoin. [caption id="attachment_601" align="alignright" width="278"]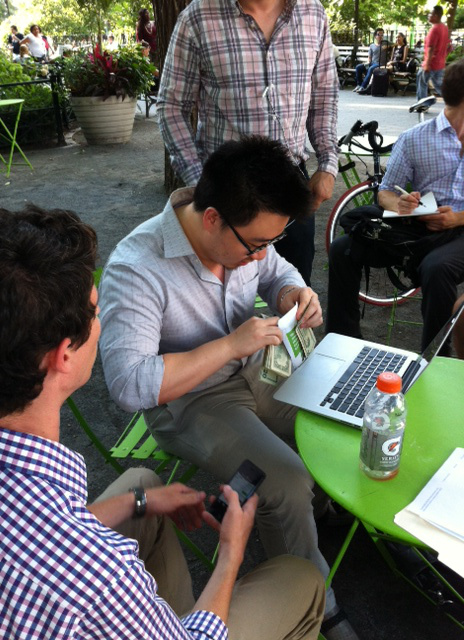 Transaction in action: an in-person bitcoin exchange is made at a Satoshi Square event in NY.

[/caption] Rossi is currently working on software designed to determine an "off-grid" valuation of bitcoin based on data collected at Satoshi Square. The project, dubbed "Project Buttonwood" (in reference to the
Buttonwood Agreement
which led to the creation of the NY Stock Exchange) has three goals. The first goal of Project Buttonwood is to disseminate information collected at Satoshi Square events in order to provide a more "holistic" bitcoin valuation based on actual trades made at events. The software will aggregate data from all Satoshi Square events to determine the price of bitcoin based on a "sentiment index." The second goal is to form a network of bitcoin "market makers"to provide liquidity to Satoshi Square meetups. These are people that have already gone through the hassle of setting up exchange accounts and have access to bitcoins. Market makers are bitcoin veterans that are willing to sell bitcoins to those that are new to bitcoin and have not setup an exchange account. The third goal is to create a trust system based on transaction histories of Satoshi Square participants. The objective is to give credit to those participants that trade bitcoins on a consistent and reliable basis. The idea is similar in concept to eBay's rating system. While it is true that Satoshi Square has been gaining popularity, it still faces a scaling problem. One thing that Rossi has noticed is that large Satoshi Square gatherings will often splinter off into separate niche groups of entrepreneurs, techies, and traders, making it difficult to sustain attendance over 30 or 40 people per event. Despite Satoshi Square's scaling problem (or perhaps in spite of it) there doesn't seem to be any trust issues at Satoshi Square gatherings. According to Rossi, there has not been a single reported case of fraud or theft arising from a Satoshi Square gathering. Rossi says that the most negative experience at an event was an instance were a transaction was delayed because the seller forgot to include a transaction fee. The seller recognized the error, re-initiated the transaction (including fee) and the exchange eventually did go through. Satoshi Square's unique "personal" approach to facilitating bitcoin exchanges may come with its inefficiencies, but also gives bitcoin a public appearance and provides education opportunities to those that want to learn about bitcoin in a relaxed social setting. Plus, the events look like a lot of fun for CryptoNerds like me.
Views: 47,757