By Brian Cohen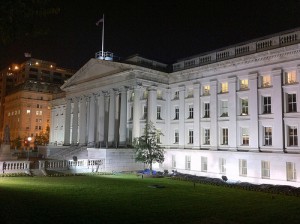 Image Credit: Flickr
Sometime the evening of Monday, September 30th, the Office of the Inspector General posted the U.S. Treasury's Annual Plan for 2014. The posting was right before the Federal government went dark Tuesday, October, 1st which would have precluded the Treasury from doing so.
For fiscal year 2013 the Treasury Office of Inspector General's Annual Plan Fiscal Year 2013 (OIG-CA-12-007) included "Treasury's Guidance on Monitoring Electronic Money" as a "Planned Project(s)..."
The Annual Plan for Fiscal Year 2014 (OIG-CA-13-011) included a similar section under Planned Projects called "FinCEN's Guidance Electronic Currency and Prepaid Access." It is interesting to note that the IG's office has specifically tasked FinCEN, a Bureau of the U.S. Treasury with the following areas for review/oversight for e-money (a.k.a Virtual Currency) while in 2013 the IG only more-generally referenced the U.S. Treasury.
Following is a comparison of the reports from year over year:
2013 and 2014 Definitions of Electronic Money Remain Identical
"Electronic money is also known as e-money, e-currency, electronic cash, electronic currency, digital money, digital cash, digital currency, or cyber currency. Typically, e-money involves the use of computer networks, the internet and digital stored value systems. Electronic funds transfer, direct deposit, digital gold currency, and virtual currency are all examples of electronic money..."
2013 and 2014 Concerns for Money Laundering Remain the Same
"...Digital currencies provide a potential money laundering instrument because they facilitate international payments without the transmittal services of traditional financial institutions..."
2014 Removes Mention of the Delineation Between Identified and Anonymous e-money
2013: "Identified" e-money contains information revealing the identity of the person who originally withdrew the money from the bank, and enables the bank to track the money as it moves through the economy. "Anonymous" e-money works just like real paper cash. Once anonymous, it is withdrawn from an account and can be spent or given away without leaving a transaction trail.
2014 Bundles Prepaid Access with Guidance on Electronic Currency
2013 Had a Separate Section Entitled "FinCEN Efforts to Assess Risks Associated With the Use of Prepaid Access Products" which was removed from the Report and in part addressed under "FinCEN's Guidance Electronic Currency and Prepaid Access"
The Definition of Prepaid Access remains the same:
Prepaid access is defined as access to funds (or the future value of funds) that have been paid in advance and can be retrieved or transferred in the future through an electronic device or vehicle, such as a card, code, electronic serial number, mobile identification number, or personal identification number.
2014 Refers Back to July 2011 Final Rule Regarding Prepaid Access (Formerly "Stored Value")
In July 2011, FinCEN issued a final rule (link provided by LTB) to clarify the definition of prepaid access and impose suspicious activity reporting, customer identification, and recordkeeping requirements on both providers and sellers of prepaid access, and registration requirements on sellers.
2014 Includes reference to FinCEN's March 2013's Regulations to Persons Administering, Exchanging, or Using Virtual Currencies
In March 2013, FinCEN issued Application of FinCEN's Regulations to Persons Administering, Exchanging, or Using Virtual Currencies (link provided by LTB). This interpretive guidance was issued to clarify the applicability of the regulations implementing the BSA to persons creating, obtaining, distributing, exchanging, accepting, or transmitting virtual currencies.
Not referenced in either report but worth referencing here are Remarks Of Jennifer Shasky Calvery, Director Financial Crimes Enforcement Network: The Virtual Economy: Potential, Perplexities And Promises at the United States Institute Of Peace in Washington, DC on June 13, 2013.
IG Has Specifically Tasked FinCEN with responsibility of Guidance and now Includes a Mobile Banking Directive:
2013: "We plan to determine if Treasury provided timely guidance for agencies to monitor e-money products, and how Treasury is addressing the vulnerabilities to the financial system with the use of these products."
2014: "We plan to determine if FinCEN has provided timely and relevant guidance to monitor e-money products, including efforts to assess risks associated with mobile banking and prepaid access, and how FinCEN is addressing the vulnerabilities to the financial system with the use of these products."
I suppose the determination for the 2013 Annual Report would be in the Audit Reports for Fiscal Year 2013, but I was unable to find any such determination.
Liberty Reserve
Of note but not mentioned in the annual report was the U.S. Treasury May 28th announcement "Treasury Identifies Virtual Currency Provider Liberty Reserve as a Financial Institution of Primary Money Laundering Concern under USA Patriot Act Section 311."
The Bitcoin Foundation provided a response to the Notice of Proposed Rulemaking on July 19th: "Bitcoin Foundation Comments to FinCEN on Liberty Reserve Special Measures"
Image Credit: Dreamscape
Speaking of the Office Of the Inspector General and Prepaid Access...
It's been almost two years to the day that the Inspector General of the United States Postal Service issued its report "Digital Currency: An Opportunity for the Postal Service?" Some interesting highlights include:
...The Postal Service has 150 years of experience as a trusted provider of affordable, reliable, and secure payment services to the unbanked....
...domestic money orders "have long been classified as a postal service."...
...International Money Transfer Service "serves as both a complement and as an extension to the paper money order postal service..."
"insufficient availability of affordable digital currency for unbanked consumers" among the challenges characterizing the digital marketplace.
...opportunities might exist for the Postal Service to address this challenge by expanding its role as a provider of electronic currency transactions to underserved markets in the form of prepaid cards."
The Post Office does not appear to have taken any public action in regards to this report since issuing it two years ago.
Quick Takeaway
Let's Talk Bitcoin! previously discussed a possible "PayPal" Instant Disposable Payment Card, but such a card does not seem to cater to "Unbanked" persons who would most likely by buying cards with money preloaded on the card whereas the PayPal Instant Card appears to load value on the card after it is purchased.
I was thinking that eBay's close relationship with the Post Office would possibly be a driving force behind a disposable card but it doesn't seem likely. I suppose the Treasury's "shift" in focus on Prepaid Access may potentially have an impact on loaded Bitcoin cold storage products.
I haven't done a thorough review of July 2011's final rule in this regards. Initially I thought most loaded cold storage products might be exempt ..."Exempts from the rule prepaid access products of $1,000 or less" but is conditioned upon "...if they cannot be used internationally, do not permit transfers among users, and cannot be reloaded from a non-depository source." I'm not entirely certain Prepaid Access can be in regards to loaded cold storage at all?
Perhaps this is a good to solicit feedback from our readers and listeners in this regards. Provide your comments below.
Views: 1,600