Click to download audio version
Be the first to hear new episodes on the Mad Money Machine Only Feed, or subscribe to the LTB Network Podcast Feed for free to automatically download new episodes of all the shows including Mad Money Machine!
Shownotes for Episode 16 of Mad Money Machine: There'll Be Blood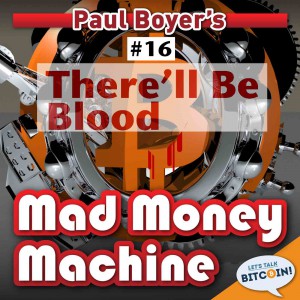 Sidechains are the answer, what's the question? Bubba wins again. Explaining the Heartbleed bug The Blood Moon predicts earth-shaking events It's Tax Day Bitcoin wash sale? Satoshi's Corner: Sections 8 - 12 GURU: Eric Himpton Holder, Jr. Omri Marion discusses using Bitcoin as a tax haven Altcoin of the Week: Blackcoin.co Cybersquats and Amir Taaki Wladimere Van Der Laan's Four Priorities for Bitcoin Core Subscribe to MMM Podcast feed to be sure to get Season 2
Produced and Edited by Paul Boyer
Music from musicalley.com and soundcloud.com. Alta Plaza by X-Ray Dogs.  Runaway Train by Under Feather.
Views: 1,293