Click to download audio version
Be the first to hear new episodes on the Mad Money Machine Only Feed, or subscribe to the LTB Network Podcast Feed for free to automatically download new episodes of all the shows including Mad Money Machine!
Shownotes for Episode 15 of Mad Money Machine: April 8th, 2014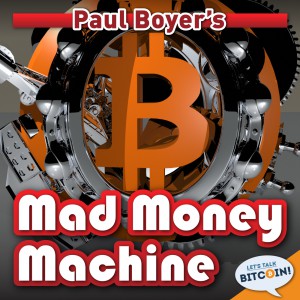 Windows 98 End of Life new life for Bitcoin? http://bitcoinmagazine.com/11337/hold-bitcoins-april-8-2014-might-defining-moment-bitcoin-history/ Northern Virginia Bitcoin Meetup report on Bitcoin 2.0: https://www.dropbox.com/s/3ql1lsrd4jnrlx8/Bitcoin_2.0_Meetup.ppt Satoshi's Corner: Section 7 - Reclaiming Disk Space GURU: David Andolfatto, VP of St. Louis Fed http://www.stlouisfed.org/dialogue-with-the-fed/assets/Bitcoin-3-31-14.pdf Heather Schlegel on the Future of Money. Read her at Heathervescent.com Let the Sparks Fly by Thousand Foot Krutch. Touring this summer http://ThousandFootKrutch.com Altcoin: Zetacoin at http://zetacoin.cc Market Minute Gavin Andresen finds a replacement for lead developer Merchant: http://HotelOfTheArts.com The Fifth Protocol http://startupboy.com/2014/04/01/the-fifth-protocol/ Oceans by Hillsong United
Produced and Edited by Paul Boyer
Music from musicalley.com and soundcloud.com. Alta Plaza by X-Ray Dogs.  Runaway Train by Under Feather.
Also available on YouTube and iTunes: Let the Sparks Fly by Thousand Foot Krutch, Oceans (Where Feet May Fail) by Hillsong UNITED
Views: 1,162