Click to download audio version
Be the first to hear new episodes on the Mad Money Machine Only Feed, or subscribe to the LTB Network Podcast Feed for free to automatically download new episodes of all the shows including Mad Money Machine!
Shownotes for Episode 14 of Mad Money Machine: No Foolin'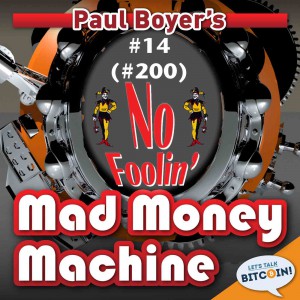 What's the difference between Bitcoin and my iPhone? Check your iPhone ports for yarn FED announces the eDollar? I saw and liked Divergent GURU: Marc Andreessen Satoshi's Corner: Section 6: Incentive TOOL: CoinDesk.com Why the eDollar could not actually work: http://www.datavetaren.se/?p=why_banks_cannot_replicate_the_blockchain ALTCOIN: DarkCoin.io MERCHANT: 1broker.com Byrne on Fox
Produced and Edited by Paul Boyer
Music from musicalley.com and soundcloud.com. Alta Plaza by X-Ray Dogs. Money by Theory in Motion.  Runaway Train by Under Feather. Babbling of Fools by John Theilman and the Selves.
Also available on YouTube and iTunes: Here Comes the Fool by The Fixx. The Fool on the Hill by the Beatles. Fool (If You Think It's Over) by Chris Rea. Foolin' by Def Leppard. What a Fool Believes by The Doobie Brothers. Fool for You Anyway by Foreigner. Only a Fool Would Say That by Steely Dan. Won't Get Fooled Again by The Who.
Views: 1,044