Click to download audio version
Be the first to hear new episodes on the Mad Money Machine Only Feed, or subscribe to the LTB Network Podcast Feed for free to automatically download new episodes of all the shows including Mad Money Machine!
Shownotes for Episode 13 of Mad Money Machine: A Small List of Demands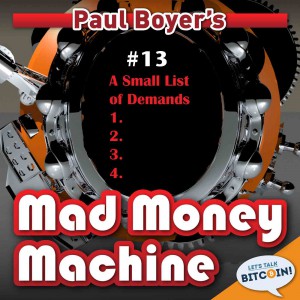 What's the difference between Bitcoin and my iPhone? Small list of demands for Bitcoin Small list of demands for Crypto One wish for the world Burger Kings allows payments with... GURU: Bill Miller Ron Paul not the best salesman for Bitcoin? Satoshi's Corner: Section 5: Network Millibit Market Minute TOOL: http://NakamotoInstitute.org Fox on Reddit talks to a Dogecoin dude http://Bitrunner.io Hank Paulson talks Bitcoin (at 48:30) https://www.youtube.com/watch?v=Bqz5GRtZEVc http://Brawker.com and the video: https://www.youtube.com/watch?v=M0-aZit2oI8
Produced and Edited by Paul Boyer
Music from musicalley.com and soundcloud.com. Alta Plaza by X-Ray Dogs.  Runaway Train by Under Feather.
Views: 1,220