Click to download audio version
Be the first to hear new episodes on the Mad Money Machine Only Feed, or subscribe to the LTB Network Podcast Feed for free to automatically download new episodes of all the shows including Mad Money Machine!
Shownotes for Episode 12 of Mad Money Machine: Bitcoin Tool Fest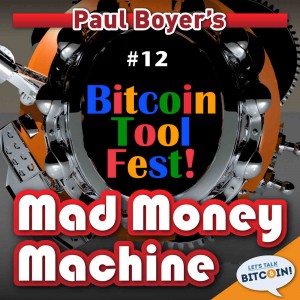 Bitcoin and Namecoin are big tippers at the Nakamoto Tavern 12 Lanes of traffic shut down for the theft of 11 Bitcoin Warren Buffett has an opinion on Bitcoin BitBet.us - "prediction market" GURU: Adam Back - inventor of HashCash Chris Dixon - Stored Hashcash http://www.cdixon.org/2014/03/15/stored-hashcash/ Dorian releases a statement Merchant of the Week: The Santa Cruz Experience Altcoin of the Week: Namecoin Google Chrome .bit extension:  http://bit.ly/1iawErt Satoshi's Corner: Section 4: Proof-of-Work TOOL: http://blockexplorer.com/q TOOL: http://GreenAddress.it TOOL: http://Xapo.com TOOL: Blockchain Merchant App for Andriod http://blockchain.com TOOL: https://www.onename.io/madmoneymachine Call MMM at 571-366-7121 Market Minute Eric Schmidt on Bitcoin CNBC: Why is money so slow?
Produced and Edited by Paul Boyer
Music from musicalley.com and soundcloud.com. Alta Plaza by X-Ray Dogs.  Money by Theory in Motion. An Arrangement of Infinite Silent Collisions by Leaving Richmond. Runaway Train by Under Feather. Venezuela by Randy Stonehill.
Views: 1,328