Click to download audio version
Be the first to hear new episodes on the Mad Money Machine Only Feed, or subscribe to the LTB Network Podcast Feed for free to automatically download new episodes of all the shows including Mad Money Machine!
Shownotes for Episode 11 of Mad Money Machine: The Picture of Dorian is Gray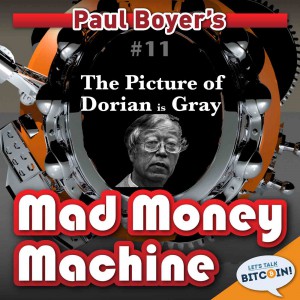 Leah walks into the Nakamoto Tavern... The Picture of Dorian is Gray Goxcoin tries to find the missing BTC http://humint.is/goxcoin Satoshi's Corner - Section 3: Timestamp Server Tool: http://www.ProofOfExistence.com Merchant of the Week: http://SquiggleCase.com Altcoin of the Week: http://peercoin.net Sign up at LTBcoin.com Guru: Jimmy Wales Market Minute
Produced and Edited by Paul Boyer
Music from musicalley.com and soundcloud.com. Alta Plaza by X-Ray Dogs.  Money by Theory in Motion. An Arrangement of Infinite Silent Collisions by Leaving Richmond. Runaway Train by Under Feather. Just Believe by Desiradi. Sunshine in the Shade by Reverse Engineers. Maybe I'm Amazed by Blake Morgan.
Views: 1,308