By Daniel Roseman
Big things are happening for Bitcoin. At the same time that the US Government is trying to figure out what to do with the more than
26,000 bitcoins seized
in crackdown of the Silk Road, other US agencies are taking a closer look at the role of bitcoins in fundraising for political campaigns. In response to an
inquiry
by the Lawyers for Conservative Action Fund PAC (CAF), the Federal Elections Commission recently
announced its decision
to assess whether bitcoins are an acceptable form of donation to political campaigns. To help the Commission make an informed decision,
Perkins Coie
- a highly reputable venture capital law firm - filed comments on behalf of the Bitcoin Foundation urging the FEC to approve bitcoins as an acceptable form of campaign donations. From the
Press Release
:
Jacob S. Farber, Senior Counsel with Perkins Coie representing the Bitcoin Foundation noted "Various state- and national-level campaigns are already accepting Bitcoins, and they are well-suited to political contributions because of the transparent nature of Bitcoin transactions.  Accordingly, the FEC should formally recognize their use.  Recognition of Bitcoin in this manner by the FEC would mark an important milestone for Bitcoin."
[caption id="attachment_1246" align="alignright" width="200"]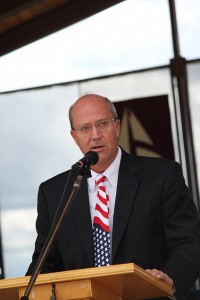 Mayor Bill Barnett accepts bitcoin donations for his re-election campaign.[/caption] The FEC has until October 28th, 2013 to make its decision. However, one small-town Michigan Mayor is jumping the gun. Bill Barnett is the Mayor of
Cadillac, Michigan
. Last month, he announced his candidacy for re-election with an interesting side note: his campaign will accept political donations in the form of bitcoins. According to Barnett's
website
:
We welcome Bitcoin donations. We support currency freedom! However, in order to promote the use of Bitcoins for these purposes, our campaign must comply with federal and state election/campaign finance laws. In the spirit of transparency and legality, we require the following information from all donors, whether BTC or USD. We really appreciate your support! For contributions of more than $100 USD (cumulatively) we also need your employer, city of employment, and job title.  No one person can donate over $500 USD (cumulatively).
I had a chance to interview Jake Barnett - the Mayor's son and campaign manager - about their decision to accept bitcoin donations. Below is the Q&A from our email correspondence:
How many bitcoin donors have there been?
3
How many bitcoins have been donated in total so far?
The equivalent of 7USD.
The Federal Elections Commission (FEC) is currently assessing its position on Bitcoin donations to political campaigns and has until October 28th, 2013 to make a decision. What are the ramifications for the Barnett bitcoin donation fund if the FEC elects to disallow bitcoin donations?
We have requested that all donors give us their email address and mailing address, if the FEC deems that BTC cannot be used for political donations, we will be in contact with the donors and issue a refund.
How and when did Mayor Barnett learn about bitcoins?
From me, I am his son and his Technical Manager for his campaign. I offer my services in kind. He has a high level understanding as to how bitcoin works, but doesn't understand the inner-workings fully,
What led to the Mayor's decision to accept bitcoins for the re-election campaign?
He understands that not everyone agrees with practices of the legacy banking and credit card systems and wants to offer individuals as many options to show their support. It is important to note however that we can only accept BTC from US citizens, so unfortunately we lose out on the global advantage that bitcoin has over the legacy systems.
Does Mayor Barnett own bitcoin for personal use? Has he purchased anything with bitcoins?
He does now own bitcoins personally and has not purchased anything with bitcoins.
Are bitcoin donations stored as bitcoins or converted to cash?
The bitcoins are stored currently as bitcoin in the bitpay account. The goal is to look for options to use BTC directly for things like printing, ads or other online avenues for buying services with BTC to benefit the campaign. However, just because of the small amount donated so far, there is a limited amount that can be done; so further exposure from articles like this would be the perfect way to increase the donations to a level where we can actual afford value-add services directly with bitcoin.
Do bitcoin donations need to be accounted for differently than cash or credit donations?
For reporting purposes they are treated just like cash. We have the donors contact information and will file them alongside the USD donations once the campaign has come to an end. To make a bitcoin donation to Mayor Barnett's re-election campaign, visit:
http://www.barnettformayor.com/bitcoins
Views: 1,694