Click to download audio version
While we're in the process of creating the new Let's Talk Bitcoin network, we're pleased to include Mad Money Machine as a timely, weekly news source for LTB Listeners.  While LTB covers important issues, our recording schedule is not always timely.  We believe Paul Boyer's Mad Money Machine will fill this valuable need for our listeners and are pleased to present it for you.  
Subscribe to Let's Talk Bitcoin! for free to automatically download new episodes.
Shownotes for Episode 3 of Mad Money Machine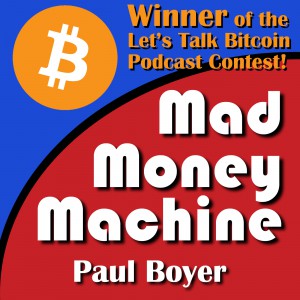 Bitcoin, Litecoin, and Feathercoin walk into a bar...
My experience at the DC Bitcoin Meetup
Tool of the Week: Tippercoin
Overstock Shocks the Bitcoin world
NY State to hold Bitcoin Hearings
Richmond Fed President
Lionel on Bitcoin
Market Minute
Guru: Ed Moy
Produced and Edited by Paul Boyer
Views: 929