Click to download audio version
Subscribe to the Let's Talk Bitcoin Show, or Subscribe to The LTB Network for free, and never miss an episode again!
Shownotes for Let's Talk Bitcoin Episode 98 – Johnston's Law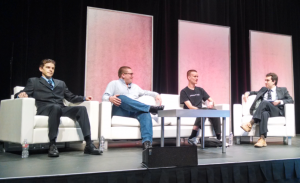 This program is intended for information and educational purposes only, Cryptocurrency is a new field of study - Consult your local futurist, lawyer, and Investment Advisor, before making any decisions whatsoever for yourself.
Welcome to Let's Talk Bitcoin!  A twice weekly show about the ideas, people and projects Building the new digital economy and the future of money.
My name is Adam B. Levine, and today we're in San Francisco for another installment from Coinsummit in San Francisco in late March.  On the first day of the event I moderated a panel featuring Vitalik Buterin of the Ethereum Project, David Johnston from the Mastercoin Foundation and Bryan Snyder, an ambassador from the NXT Project.   We talk funding and founders, problems and use-cases.
But first, in the wake of Gox the world is re-organizing how we do, and should do things.  I spoke with Adam Stradling about ProvablySolvent.com and their effort towards improving the voluntary transparency of the people holding your private keys.
Enjoy the show
CREDITS
Thanks for listening to episode 98 of Let's Talk Bitcoin! Visit us at LetsTalkBitcoin.com for more content, subscribe to our feeds, tip our shows, and of course try out all the other shows on the LTB Network like Paul Boyer's Award Winning Ma d Money Machine, Ed & Ethan's Live Bitcoin Report Wednesdays at 7pm Pacific Time, Dr. Stephanie Murphy and Brian Sovryn on Sex & Science Hour, and of course the boys in Nashville serving up Bitcoins & Gravy. This episode was produced by Adam B. Levine and Krystal Levine, content was provided by Adam Stradling, Vitalik Buterin, David Johnston, Bryan Snyder and Adam B. Levine. Music for this episode was provided by Jared Rubens and General Fuzz Any questions or comments?  Email
[email protected]
General Support Addresses for Let's Talk Bitcoin!
Bitcoin: 1LTBShowv5nZ2fgZ4hWU7ieeDRNKSAxtov Litecoin: LZxkcspyUj3LnMjukTzcSSPkDvLu1uudZp
Views: 1,293