Click to download audio version
Subscribe to the Let's Talk Bitcoin Show, or Subscribe to The LTB Network for free, and never miss an episode again!
Shownotes for Let's Talk Bitcoin Episode 92 – Playing Catchup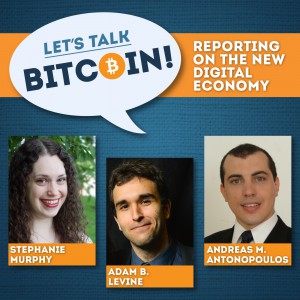 My name is Adam B. Levine, and today we're playing a bit of catch-up.
The last time I talked to David Johnston, Co-Founder of the BitAngels Network, he told me that he has 28 projects he's investing in so far this year surrounding Distributed Applications.  LTB correspondent Jonathan Mohan caught up with David not-so-long-ago at the Miami Conference to talk Master Protocol and our future of distributed apps.
Then:
Stephanie Murphy submits her first interview from the Texas Conference which took place last week outside the city of Austin.  Stephanie talks Coinvoice and Conformal with Marco Peereboom., then  Zero Trust security and a from-scratch Open Source, Bitcoin implementation.
And Finally, Jonathan Mohan catches up with Sheldon Wisefield - An Early Robocoin owner with Coinvault ATM.  They get inside the head of the early ATM operators, and the thought behind these early-run machines.
But first,
You asked; here it is - Dogecoin with Josh Mohland, creator of the Doge Reddit Tipbot.
CREDITS Thanks for listening to episode 92 of Let's Talk Bitcoin!  Content for today's show was provided by Stephanie Murphy, David Johnston, Jonathan Mohan, Sheldon Wisefield and Marco Peereboom, Josh Mohland  and Adam B. Levine      This episode was produced by Adam B. Levine with additional production by Stephanie Murphy and Jonathan Mohan. This episode was edited by Denise Levine, Matthew Zipkin and Adam B. Levine
Music for this episode was provided by Jared Rubens, That Doge Song and General Fuzz
Questions or comments?  Email [email protected]
General Support Addresses for Let's Talk Bitcoin! Bitcoin: 1LTBShowv5nZ2fgZ4hWU7ieeDRNKSAxtov Litecoin: LZxkcspyUj3LnMjukTzcSSPkDvLu1uudZp
Views: 1,628