Click to download audio version
Subscribe to the Let's Talk Bitcoin Show, or Subscribe to The LTB Network for free, and never miss an episode again!
Shownotes for Let's Talk Bitcoin Episode 88 - Gox Gox Gox Gox Gox Gox Gox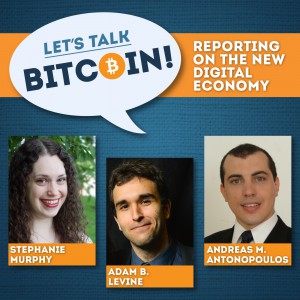 This last week saw a foundational member of the Bitcoin infrastructure crumble and fall in what looks like certain bankruptcy and a years long recovery. We won't know what's really going on until the folks in Japan open up but everybody's got an opinion on it, and that's where we begin today. Erik Voorhees is a beacon in the world of bitcoin philosophy and one of its most outspoken community advocates. We kick off todays show with Stephanie Murphy's reading of Erik Voorhees letter entitled "Some words for my friends" Then, Bloomberg News is concerned about the repercussions of Gox on the community, the currency and the momentum we've built over the last few years. Recently they interviewed Barry Silbert, founder at Second Market and progenitor of what claims to be the first wall-street backed Bitcoin exchange. Throughout this episode we'll hear from members of the community including Mastercoin Director Ron Gross and Legal Mind Trace Mayer, EasyDNS CEO Mark Jeftovic and Ethereum Evangelist Joel Dietz. We even hear a bit from Funnyman Jon Stewart on the right way to break the law as a financial institution. We end todays show with a collaborative piece, both in its writing and in todays performance as we explore The Ghost in the Machine at Mt.Gox, with portions of an IRC log re-enacted by the newly formed LTB Players. But first, why bother building towers when they sometimes fall down? Erik Voorhees explains...
Credits
Thanks for listening to episode 88 of Let's Talk Bitcoin! Content for todays show was provided by Stephanie Murphy, Erik Voorhees, Bloomberg News, Ron Gross, Mark Jeftovic, Trace Mayer, Joel Dietz, Akio Minamoto, Curtis Fenimore, Emily Vaughn and Tonto Kawalski This episode was produced and edited by Adam B. Levine and Denise Levine, with additional production by Stephanie Murphy. Music was provided by Jared Rubens (http://soundcloud.com/jaredarubens) and General Fuzz (http://www.generalfuzz.net/tunes.php)
General Support Addresses for Let's Talk Bitcoin!
Bitcoin: 1LTBShowv5nZ2fgZ4hWU7ieeDRNKSAxtov
Litecoin: LZxkcspyUj3LnMjukTzcSSPkDvLu1uudZp
Questions or comments? Email
[email protected]
– Have a good one.
Views: 1,723