Click to download audio version
Subscribe to Let's Talk Bitcoin! for free to automatically download new episodes.
Shownotes for Episode 80 - Beyond Bitcoin Uncut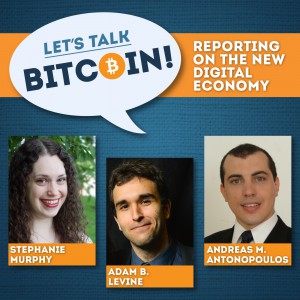 We've talked before on LTB about Metacoins. For the last several months I have immersed myself in them. There's really no question in my mind these tools to create decentralized consensus about anything represent the next great leap forward in whatever the release of the Bitcoin protocol catalyzed. The afternoon before Miami's recent North American Bitcoin conference I organized a private panel discussion, Charles Hoskinson representing the
Ethereum project
, David Johnston of the
Mastercoin Foundation
and Daniel Larimer of
Invictus Innovations
representing the Bitshares project. Jason King, founder of
Sean's outpost
led the conversation as moderator over the course of about an hour and a half. Starting from the basics of each project, moving through the potential, the fundraising, the ecosystem and eventually the future they each hope to create
CREDITS
This episode was entitled Beyond Bitcoin, and featured Jason King, Charles Hoskinson, David Johnston and Daniel Larimer Thanks to Gustavo Matamoros of the SubTropics.org for providing the space at the Audiotheque for the panel and Steve Malagodi of Spectacular Sound (
[email protected]
) for the recording. Music was provided by Jared Rubens, General Fuzz and Calvin Henderson Questions or comments? Email 
[email protected]
 - Have a good one.
General Support Addresses:
Bitcoin: 1LTBShowv5nZ2fgZ4hWU7ieeDRNKSAxtov
Litecoin: LZxkcspyUj3LnMjukTzcSSPkDvLu1uudZp
Views: 3,579