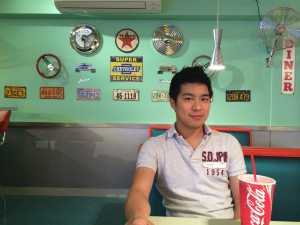 By Joseph Lee
"American future lies in the East. The great free markets of the Pacific Rim are the American destiny." – Donald Freed, playwright, novelist, screenwriter and actor.
That aphorism about the fate of America – and the future of the Americas – is as true from the pen of a dramatist as it is from the cable of diplomatist.
For, across expansive oceans and seas, from Tokyo and Taiwan to Singapore and Shanghai, in this intersection of distinct cultures and ancient customs where the architecture of nature merges with the designs of a thousand (or more) artists of construction, in this mélange of French, Dutch and English imperium, between the artifacts of colonial rule and the Victorian, Queen Anne, Neoclassical and Art Deco landmarks; in this archipelago of artifacts, where the conversation of cosmopolitanism – of expatriates, dilettantes, attachés, refugees and rogues – is now forever silent, there is the sound of a busy present with a skyline straight from science fiction, glass skyscrapers, lattice towers with spherical rings, a trapezoid aperture and the brilliance of a million lights, the fluorescence and neon of evening commerce and the luminescent colors of red, white, green and gold spires – this is where the great markets for Bitcoin reveal our destiny.
I write these words with a strong appreciation for Asia, where, in my role as Co-Founder and CEO of BTC.sx, I have our headquarters in Singapore. Our platform for the trading of Bitcoin-only derivatives draws support from users worldwide, but it is in this specific section of the globe – here on the Malaya peninsula – where there is an atmosphere of creativity, entrepreneurial excitement and a multitude of investors. The same point is true in Hong Kong, Kyoto, Kuala Lumpur, Manila and and Macau, among other places.
My statement to the peoples of these great cities and capitals is an amplified amen, and a formal announcement to our friends and supporters that BTC.sx is an international phenomenon with an Asian temperament. Transparent by design, secure in execution and swift with technology, these values reverberate throughout Asia.
These virtues also serve as a primer about doing business in a diverse array of countries, where tradition coexists with the transformational power of alternative currencies. Knowledge of the two, with added respect towards the former, is a signal of intent and a (digital) signature of agreement: That we, and here I speak for my colleagues as well as the users of BTC.sx, have a sincere interest in the economic success of this vital region of trade, law, philosophy and protocol.
Honoring Tradition and Inaugurating Change: Bitcoin and the Rise of Asia
This passion for the dynamism of Asia is a complement to, not something in conflict with, the global influence of Bitcoin and BTC.sx. We have the same optimism for Britain that we do for Beijing, the same enthusiasm for New York City (where I just attended the Inside Bitcoins Conference) that we have for New Delhi.
But we want the rest of the world to know – in English, Spanish, French, Italian, Portuguese and ten thousand other tongues – that we recognize the Chinese characters of Mandarin, the brushstrokes of Japanese script, the vertical alignment of Korean writing, the tonal quality of Thai, the Jawi alphabet of Southeast Asia and the Tamil inscriptions of our Singaporean neighbors.
These tasks are important duties – necessary acts of respect and transparency (more about the latter anon) – because Asia is a trendsetter for so many things concerning Bitcoin and alternative currencies in general.
My responsibility, personally and professionally, is to offer a platform with the flexibility to adapt to and incorporate these trends. Achieving that goal requires a thorough appreciation of the variables behind the acceptance of Bitcoin in one country, the development of mobile applications in another and wholesale innovation in yet another, in this vast landmass of nations and cities, with their Rorschach-like shapes and contours.
Indeed, all of Asia is a Rorschach test for the sightseer and sage alike. What we choose to see, and what we want the world to witness, may be two different things. In this environment, I believe transparency will reveal the integrity of our deeds and the sincerity of our actions. There must be no daylight between them.
That spirit of inclusiveness is a transcendent quality throughout Asia. It inspires our work, now and always.
Views: 1,211