Click to download audio version
This talk was given on 1/25/2014 at the North American Bitcoin Conference in Miami Florida.
[caption id="attachment_2271" align="alignright" width="150"]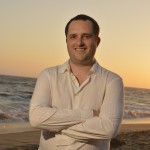 Chris Odom[/caption] Chris Odom, better known as Fellow Traveler, is the creator of the
Open Transactions
system. The utility of a system like Open Transactions recently clicked for me, which is a little funny because I've known about it for two years and actually interviewed Chris in 2013 on the topic. Once the lightbulb switched on I saw a little of what our future might look like with interoperable cryptocurrencies minus the centralized exchanges. Thanks to Stephen Malagodi for capturing this audio and being our man on the ground in Miami. If you enjoy our Miami coverage, please consider sending us a bitcoin tip! 16L6bfeP8WxfqAeYJ9A27ibSiDdKjzkFw1 Music was provided by Jared Rubens Calvin Henderson and Matthew Murkowski Questions or comments? Email 
[email protected]
 - Have a good one.
Views: 3,578