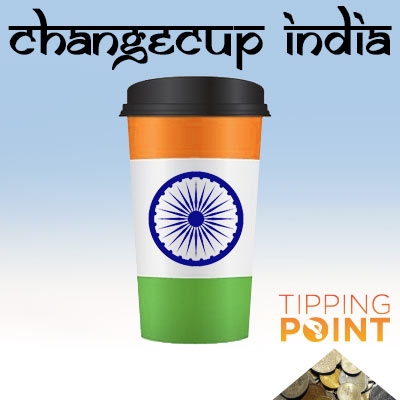 This is the first article in Tipping Point, a column devoted to exploring the positive impact of the micro-donation options made possible through cryptocurrency that are empowering people and charitable causes around the world. Tipping allows individuals to support causes that are important to them, from delivering coffee and food to people affected by homelessness in New York City, to supporting medical relief teams deployed to earthquake zones in Nepal, without the painful delays, unnecessary costs, and geographic limitations imposed by the traditional banking system. With bitcoin, real-time help is only a tap away, anywhere on the planet. Tipping Point will profile the people, companies, and charitable causes working to leave the world a better place than the way they found it, bringing bitcoin to the front lines of the world's most pressing humanitarian challenges. — Daniel Modell
Embracing the Reality
Bitcoin can be a boon towards charity and causes, especially for a rapidly growing country like India. I've had the opportunity to extend the ChangeCup movement and bring it from its beginning in New York City to my home country of India, with a vision to create a unified solution for a noble cause. Bitcoin is becoming popular around the world as more people and services are embracing cryptocurrency and blockchain technology. There are widely known services for various application such as legal, finance, utilities, etc., but it does not just stop there.
India has a huge need for philanthropy in various fields. In education, there is near universal enrollment of children in schools at the primary level, many who need funds. Less than a third of school-age children in class III can read a class I text. The infant mortality rates also have dropped 13% in two years — from 230 per 1,000 births in 2008 to 200 in 2010 — but the number is still too high, due to the lack of proper health care for underprivileged kids. Medical resources remain sparse, and World Health Organization statistics counted India among the most likely countries to face a shortage of healthcare workers. These striking facts found on the India Philanthropy Report published by Bain and Company show the need to innovate the way charity works in India.
It has not been difficult for me to get funds or spread charity, thanks to the kind-hearted bitcoin community who have stepped forward to support me, believe in the reason behind my efforts, and contribute a helpful amount. People power is what enables a movement like this to grow.
Bitcoin as a Token of Charity
Bitcoin can be used in many ways. One obvious use is instant money transfer. Any charity with a website can easily accept bitcoins or altcoins as a payment option. The following are some of the reasons why bitcoin makes a good form of accepting charity:
People from any country, using any currency can donate in bitcoin.
It is universal form of payment.
It is very easy to integrate bitcoin payments with any website.
It is legal and easy to convert your bitcoins into your local cash.
Bitcoin also has other advantages, such as proof of participation (on social networks), which encourages others to do more. When everything revolves around crypto, acceptance and processing of the funds is hassle free.
Crowdsourcing: The Key
The answer to the problems lies in crowdsourcing. Crowdsourcing is not something new. It's already used in lots of industries, including charity. With the help of bitcoin, the barrier of accepting funds in one particular currency is broken, and people from different parts of the world can donate securely without worrying about any currency conversion or payment gateways, or delays in transfers. The concept of globalization is truly implemented for charity.
Change for Charity
Charities can now also make use of social media, not just to promote their work, but also to receive donations via tip. Bain and Company's survey of donors found that only 38% receive at least a quarterly communication from the NGOs (non-governmental organizations) they fund, while more than 60% do not receive any regular communication. Social media could be one of the answers to this problem.
ChangeTip helps people receive tips via social networks like Facebook, Twitter, and YouTube. A person who is inspired by your video on YouTube can leave a comment containing a tip that is delivered instantly to you in bitcoins. The overall experience of donation is enhanced. ChangeCup India started within ChangeTip, and so far all the donations have been collected using just bitcoins.
ChangeTip also has a special page for charities that helps promote them to kind people who like to support causes. Already dozens of charities have benefited from accepting tips via ChangeTip. This is a huge booster for charity in India. According to the Bain report, over 25% of donors will donate more when they experience communication from the charitable organization, leading to greater funds raised.
ChangeTip was the introduction for me into bitcoin charity. ChangeCup India started here with just a few tips from close friends via ChangeTip, and now it's supported by many in the community, with constant charitable love showered towards improving the well-being of people.
Cash for Every Coin
It's easy for a charity to cash out bitcoins directly in a bank account. For ChangeCup, I have used Unocoin to cash out bitcoins and donate them to various causes. Unocoin is a legal and easy way to buy and sell bitcoins in India. When you sell bitcoins, you can receive the cash directly into your bank account. You can cash all your coins for a noble cause. You can also use services like ShapeShift to easily accept other altcoins and have bitcoins deposited in your wallet.
The Next Step
What would you need as a charity to do to embrace this new approach? Start by understanding the existing problems currently facing charitable causes, and working with knowledgeable poeple to build the solutions. Charity should evolve into "charity 2.0" and make use of bitcoin technology to achieve this. ChangeCup is for more than just India (or New York City for that matter), but it should really be a global endeavour to supporting people who need the most help. ChangeCup is the effort of many people working together, and I thank all those who have believed in this cause and continue to support it.
If you are interested in ChangeCup, or would like to start a chapter in your area, please reach out to me by commenting below, and I would be glad to help.
---
Feel free to browse my GitHub open-source Bitcoin projects. Tip this blog or my other work on ChangeTip.
---
From the Front Page of The LTB Network

​