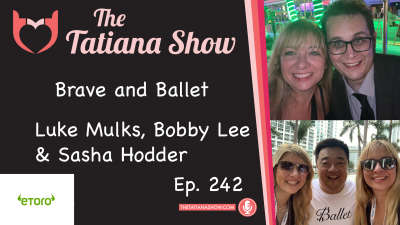 Click to download audio version
Luke Mulks is the Business Development Director at Brave, an internet browser that promises privacy and security for their users. Anything that may try to track you on other browsers and collect your data without your awareness is blocked by default. Along with this, third-party ad blocking and tracking protection are integrated into the browser as well. Brave has created a new way to monetize the internet, and has implemented use of their BAT token for software users.
Tatiana and Sasha Hodder interview Bobby Lee, as they find out more about Ballet. Ballet is a crypto wallet, and a brand new, simple way to be able to hold multiple cryptocurrencies. Created for people that have no prior knowledge in crypto and those who are experienced veterans, Ballet is an innovative product that is leading us into the future of cryptocurrency. Ballet is a physical device, that uses a two-factor key generation process. Find out more about what inspired this iteration of wallets after working so many facets of the crypto industry.
This episode will also be syndicated on the Hodlcast with Sasha!
About the Guests:
Luke Mulks
Luke has founded multiple businesses of his own, worked for others, freelanced, taught, worked in print publishing, print production, photography, video, audio, illustration, web design, development, user experience, client services, ad ops, ad products, strategic planning, product integration, product support and incident response. He is a true Jack-of-all-trades.
Bobby Lee
Bobby is an entrepreneur in the cryptocurrency industry, and he just recently founded his second startup, Ballet, in early 2019. Ballet aims to drive global adoption of Bitcoin and cryptocurrency. It is headquartered in Las Vegas, Nevada, USA.
Previously, Mr. Lee was the Co-founder and CEO of BTCC (formerly BTCChina), the first bitcoin exchange in China, and the leading bitcoin financial platform worldwide. BTCC was acquired in January of 2018.
Before BTCC, Mr. Lee was Vice President of Technology for Walmart's e-commerce business in China. Previously he was the CTO of SMG BesTV New Media, the largest IPTV operator in China with the most subscribers globally. He moved to Shanghai in 2007 and started off at EMC's China Center of Excellence, as Director of Software Engineering, with responsibilities for Cloud Computing and Cloud Storage.
Mr. Lee started his career in Silicon Valley as a software engineer at Yahoo!, and led the development of the earliest online communities. He graduated from Stanford University with B.S. and M.S. degrees in Computer Science, and was a member of the Mayfield Fellows Program. He earned an EMBA degree from CEIBS in China.
Mr. Lee currently serves on the board of Bitcoin Foundation, a non-profit organization that fosters the adoption of bitcoin globally. In his spare time, he enjoys traveling, photography, watching movies, and playing poker.
Sasha HodderEsq
Sasha is an Attorney with DLT Law Group, P.A. where we support crypto-related businesses. She helps her clients navigate the variety of applicable regulations. She has worked with companies attempting to launch crypto-exchanges, establish LLCs in America and abroad, apply for various money transmission licenses; respond to SEC subpoenas, start crypto-hedge funds, operate a fleet of Bitcoin ATMs, and fundraise through Regulation D and CF.
She is a regular guest on the Tone Vays Bitcoin Law Review Show where a group of prominent crypto attorneys discuss the legal news.
She is the host of the HodlCast podcast, a show focused primarily on crypto regulation. These interviews have given her a deeper understanding of the industry from many unique viewpoints. She is also a curator for the MerkleReport and a guest writer for Bitcoin Magazine.
If you like this content, please send a tip with BTC to: 1Q2QHoNowg8D2QzWhBQU1YrraG771aCpgS
More Info:
TatianaMoroz.com
CryptoMediaHub.com
Friends and Sponsors of the Show:
*You have been listening to the Tatiana Show. This show may contain adult content, language, and humor and is intended for mature audiences. If that's not you, please stop listening. Nothing you hear on The Tatiana Show is intended as financial advice, legal advice, or really, anything other than entertainment. Take everything you hear with a grain of salt. Oh, and if you're hearing to us on an affiliate network, the ideas and views expressed on this show, are not necessarily of the those of the network you are listening on, or of any sponsors or any affiliate products you may hear about on the show.