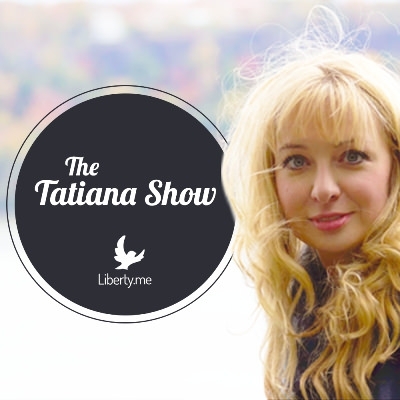 Tatiana interviews comedian Travis Irvine & Brian Sovryn of Sovryn Tech.
Topics Include:
--"Comedy and Politics"
--"Libertarians Interacting with the Left"
--"Dark Android"
--"Cryptocurrencies and Privacy"
About the Guests:
-Dr. Brian Sovryn is the proprietor and developer of Zomia Offline Games, as well as the creator and host of the podcast Sovryn Tech. His background in technology comes from years spent with multiple tech companies, the U.S. Army, and from being involved in the cypherpunk community since the late 1990's. Brian also has a Doctorate of Divinity. He was a co-host of the nationally syndicated radio show Free Talk Live for two years, as well as a co-host with Dr. Stephanie Murphy on the popular Let's Talk Bitcoin Network show Sex & Science Hour, and has made numerous appearances on other podcasts and radio shows. He's also a public speaker at various liberty, anarchist, Bitcoin, blockchain, and tech events throughout the world. Brian also fancies himself a gamer, historian, and tech journalist (in that order), and is a supporter of the Center for a Stateless Society, the Center for Global Nonkilling, the Albert Einstein Institute, and the Institute of General Semantics. Born in 1981 in New York, Brian Sovryn is ethnically Jewish, and unfortunately converted to Christianity for a time, but is now a freethinker and anarchist. He is presently a denizen of New Hampshire.
-Travis Irvine is a journalist, comedian, independent filmmaker and unsuccessful politician. He has also contributed to VICELAND, the Guardian, Mediaite, Jesse Ventura's "Off the Grid" and .Mic. Travis wrote and directed a feature-length horror/satire film about killer raccoons that is available from cult film company Troma Entertainment, and in 2007 he ran for mayor of his hometown in Ohio and turned the experience into a short documentary that was featured at the Cannes Film Festival. Travis' campaign and comedy videos have been featured on "The Jay Leno Show," PBS's "NewsHour" and Funny Or Die, and he was also once on "The People's Court.
More Info:
https://www.TatianaMoroz.com
https://www.CryptoMediaHub.com
https://www.Vaultoro.com/?a=100068
http://www.OnTourTecords.com/travis-irvine
https://itunes.apple.com/us/album/guy-from-ohio/id1242602705
https://www.zog.email http://DarkAndroid.info
Friends and Sponsors of the Show:
https://www.TheBitcoinCPA.com/
https://www.CryptoCompare.com/
https://www.FreeRoss.org
https://www.ThirdKey.Solutions/
http://www.SovrynTech.com
http://www.SexAndScienceHour.com
https://www.Netki.com
https://www.Vaultoro.com
http://www.CryptoMediaHub.com
https://LibertyCraze.com/
http://www.BeautyCounter.com/TatianaMoroz