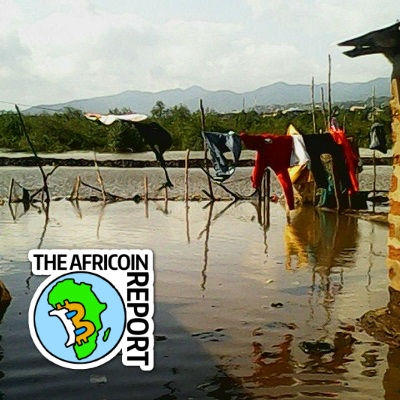 I live in a community called Old Wharf under the Wellington section, the eastern part of Freetown, Sierra Leone, West Africa. My family and I have lived in this community for a good six years since we migrated from Kenema, the Eastern Province, in 2009.
At first we lived at the center of the community, until the house owner decided to move in with his son's family because the house where they lived in the city was among those that the government listed to break down for new road construction. They had no option other than to move into their own house. They asked us to find another place, though they felt sorry for us and our living situation at that time.
We searched for an apartment for a couple of weeks and couldn't find any at that moment. They were pressuring us to leave because they wanted to move in. My mum's friend heard about our problem and told my mum that she knew an apartment somewhere, but said we should go and see if we would like to rent the apartment.
Unfortunately, it contained a single room for me, my mum, my two little sisters and my grandma, plus all our property. The room was not wide enough to accommodate us all even to lay heads, so I decided to step back and look for a place to sleep at the homes of friends, and at times in the mosque and cinema hall nearby, so that I could reduce the number and at least they could sleep comfortably.
—My family
The area where we rented the room was a banked place, and we never knew it because we were strangers to the area and nobody ever talked about it. People build banks against the sea water during the dry season to gain more land to build on. The water affects them and sometimes destroys homes, but they say they are used to such life because they have no place to go.
I asked an old man who happened to be the oldest man in the banked areas. He said the floods only occurred two or three times during the raining season and they are always aware of it every year, but sometimes it doesn't affect them and they don't suffer much from it.
—Cleaning up earlier this week after two days of overnight flooding
But this year the signs of danger in the future have alarmed us because the water passed through and went beyond its position in the previous flood. It is time to leave this place because in just two days this week, it killed two people and sank many properties and houses. I feel sorry for those who live very close to the sea. They are now moving out to seek help from the community chief. This is the situation:
This recent flooding was so bad because it occurred two nights in a row at around 3:00–4:00 a.m. till 7:00–8:00 a.m. During this time, people were sleeping, the weather was cold, and there was no electricity.
It affected many people and destroyed properties, lives, and homes.
The standard of living in the community is very poor because the majority of people are fishers. They are the ones banking the sea to build. If you warn them, they will just ask you to help them find land to build on or help them rent an apartment somewhere else. They are not happy to risk their survival, but they are just poor people and have no other place to go. The sea is their office where they earn their living.
The only solution I have now is to find an apartment in the city or elsewhere safer to rent for my family and help them move from this dangerous area. People are now sleepless at night because of this flooding, and the situation is pathetic.
Since we came here in 2009, the government has not done anything for this community. We don't have public market place, good roads, community hall, public tap for pure water, and no public park. We the youths are the only people doing the job here.
These are the conditions in which I work to bring Bitcoin to Sierra Leone.
—Chero
---
Audio version read by Mansaray Abubakarr.
If you would like another way to support the Africoin Report, you can purchase stickers of the blog logo, designed by oureverydayearth and sold through the Folding Coin shop. All proceeds go to support the report.