As a crypto enthusiast and amateur investor, I spend a lot of time wondering what factors will drive adoption of various cryptocurrencies and assets. A recent news article caught my attention. Game developer, King, was recently purchased by Activision Blizzard, Inc. for a tidy sum of US$5.9 billion! This amount of money at first sounds insane for what most people will see as a one-hit-wonder company.
King released Candy Crush in April 2012 and it became wildly popular. At its peak, the game claimed to be generating US$875,000 a day from in-app purchases on iOS in the US alone, based on 5.4 million daily active users (DAUs). Statistics from the success of Candy Crush make the US$5.9 billion acquisition seem a little more reasonable.
Seeing Activision Blizzard, Inc. pay such a massive amount for King got me thinking about games that incorporate cryptocurrency or digital assets. Who will be the king of the crypto-gaming world?
Rewind Six Months
When I was invited by friends to join a small group on the wonderful GetGems platform, I had no idea I would find a new obsession. The group was simply called "Spells of Genesis" and I was introduced to passionate crypto enthusiasts, including the charismatic Shaban Shaame, CEO and founder of EverdreamSoft.
The Swiss-based company was created in 2010 and specialized in the development of casual and online trading card games for smartphones.
EverdreamSoft is composed of designers, developers, marketers, and community managers in Switzerland, France, and Japan. The team also works with more than 30 freelance illustrators worldwide.
I spent several days learning about EverdreamSoft's upcoming iOS and Android game Spells of Genesis and quickly discovered that this wasn't the company's first foray into mobile gaming. Shaban and his team created the very popular trading card game Moonga. I installed Moonga and started playing some of the online challenges. In Moonga, you start with a basic deck of five cards; four character cards and a support spell card, which you pit against an opponent's five cards.
Each digital Moonga card has a certain amount of attack, defense, and damage points. Needless to say, it's very addictive!
Moonga is an online trading card game (TCG) for iOS (iPhone, iPad, and iPod Touch) and Android phones. Released in 2010, Moonga was ranked the #1 role playing game in the Japanese app store, and among the top 50 games of all categories the same year. It has reached a total of more than 250,000 downloads over the world since then.
Moonga already contains more than 500 cards illustrated by renowned artists from all over the world.
Fast Forward to the Present
Everdreamsoft is on the verge of releasing their latest game, Spells of Genesis (SOG), which is another very addictive game developed for mobile.
Perhaps the most exciting feature of SOG is that the in-game characters are issued as trading cards in the form of Counterparty assets. Each new character is released as a digital trading card purchasable through Tokenly Swapbots or through the Counterparty Decentralized Exchange (DEX). You can view a comprehensive list of the currently released cards on the wonderful SOG Assets website.
The cards or digital assets are purchasable with BitCrystals (BCY), the in-game digital currency that you can purchase here:
A trading card economy has already formed outside of the game, where independent resellers have set up their own Tokenly Swapbots to sell SOG cards.
Some of the rare cards have already commanded prices in excess of 1 BTC! One of the rarest cards issued to date is the Satoshi Card.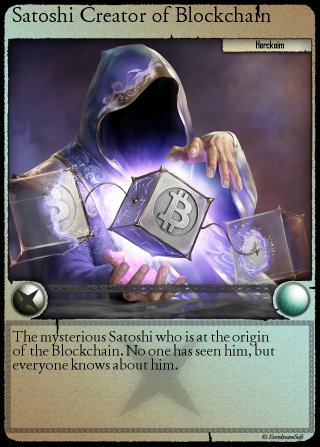 The game is currently in an open beta release playable on desktop only, but the game play is superb. As a player, you choose a deck of four characters and pit your skills against a collection of opponents. You simply take aim and shoot to unleash a spell that bounces off objects and enemies to inflict damage. The enemy shoots spells back and reduces your characters' life points. Game play continues until either the player or the opponent runs out of life points. During each round, there are boosters, additional lives, and explosives that can increase your chances of surviving. Here are some screenshots from the Beta release.
There is already a growing fan base for Spells of Genesis and I'm almost more excited for its mobile release than I am for the new Star Wars movie!
I personally think that EverdreamSoft has struck gold by combining addictive game play in Spells of Genesis with innovative digital asset technology using Counterparty assets. With such an exciting crypto-gaming prospect, it has me thinking:
It's only a matter of time before Activision Blizzard picks up the phone to call EverdreamSoft!
Views: 20,882