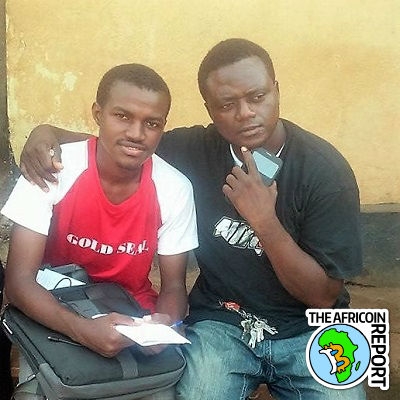 The Sierra Leone Bitcoin Network (SLBNet) is an organization that I established to bring Bitcoin awareness to Sierra Leone and to teach the people about this new global currency called Bitcoin. We are now teaching online, through conference phone calls, and visiting youths in the community to change their mindsets because Bitcoin will make it possible for them, as it does for others.
Carl Humper, Jr. (Mr. Carl) is the CEO of Sierra Leone Music Television (SLMTV). He is the first guy I met in my community to discuss bitcoin and my project. He loves the youths in the community. He works collectively with us to help unite, inspire, and motivate us in our various callings and careers. He also implemented an initiative to clean the community, and he is very friendly with others of all ages. He has been to America and spent years there, but he is now back in Africa, in Sierra Leone, to work and to serve his people.
He tells how SLMTV got started:
"Mainstream media houses like CNN, BBC, etc., depicted our beloved nation Sierra Leone in a very negative way. Allowing others to tell your story, the efficacy will either be addition or subtraction to the truth. And there has always been a rejection [at SLMTV] of the notion that Africans cannot tell their own stories. ... With determination and perseverance we became a household name because it was a Herculean task."
Mr. Carl became interested in SLBNet and he was willing to work with me, but he needed something first — to know what is bitcoin, how it works and the basic concepts of the bitcoin structure, as he wants to be a member of the organization.
At our first meeting, I played for him the bitcoin tutorials on my tablet and I explained to him more after watching them. He asked me to send them to him on his computer and I did…. We ended up learning a lot on that day and I added him on the Africoin group on WhatsApp so that he could learn more and interact with other bictoiners in the group.
Weeks later, he started improving and he asked relevant questions such as, what are the following:
Bitcoin wallet
Cryptocurrency
Blockchain
Hashing
QR code
And finally, how to receive bitcoin in Sierra Leone?
I took the responsibility of a teacher to provide him the needed answers and I did more research to help myself and him to understand. I told him the sixth question would be answered after we collectively work hard to bring SLBNet to light.
The goal of SLBNet is to target three areas at the start:
Bitcoin education
Entrepreneurial projects
A bitcoin exchange
I told Mr. Carl that the third motive will help us receive bitcoin in Sierra Leone. This problem was the reason I decided to bring up this organization with him.
A short interview with me went like this:
Mr. Carl: What is a wallet?
Chero: A wallet is basically the bitcoin equivalent of a bank account. It allows you to receive bitcoins, store them, and also send them to others in the network.
Mr. Carl: Who is going to control your coins?
Chero: Your coins are stored in your wallet and you are going to protect them with a strong password, and your private key allows you to release them. Make sure you keep your keys safe because if someone knows your key, they can easily steal your coins.
He asked me to visit him at his office so I could teach him how to create a wallet, and more about how this technology works in the network. We spent the whole day at his office creating wallets and downloading tutorials on bitcoin lectures. We did a lot on that day because we were using the office Wi-Fi Internet to connect and it was very fast on the fiber optics Internet line. We got assistance from Daniel using the TeamViewer application so he could teach us online, and it was amazing day for me and Mr. Carl.
We created many accounts and wallets, including ChangeTip, Coinbase, BitX, Blockchain, AirBitz, Mycelium, Gyft, and Circle.
Mr. Carl saw how the blockchain operates and how the transactions were flowing. He told me he has "the full conviction that the Bitcoin concept is phenomenal and will definitely be the trail blazer for digital currency." He said:
"I'm very optimistic about the Bitcoin concept, with the right tutorials and tutors for the layman to really understand the nitty gritty of it, then and only then we will see Bitcoin bring about a true revolutionary financial change. The pioneers and all involved should not relent in educating the world about Bitcoin, highlighting all the benefits they get using [it]."
---
Audio version read by Mansaray Abubakarr.
Support the Africoin Report by purchasing stickers of the blog logo, designed by oureverydayearth and sold through the Folding Coin shop. All proceeds (minus shipping) go to Chernoh, creator of the report.