Click to download audio version
Subscribe to the Let's Talk Bitcoin! Network Feed
Shownotes for Episode 5 – Enough about gox – let's get back to business!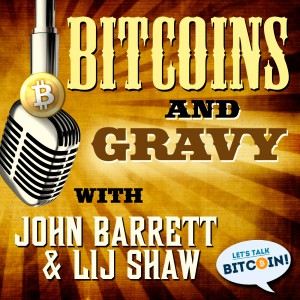 Today is March 3, 2014 – Welcome to episode 5 of
Bitcoins and Gravy
, a weekly show about anything and everything having to do with Bitcoins and the Bitcoin community. We are
John Barrett
and
Lij Shaw
– two Bitcoin enthusiasts who love to talk about Bitcoin and share what we learn with you the listener. On today's show we travel to New York City to talk with Paul Vigna, a seasoned columnist at the Wall Street Journal and author of the new Bitcoin column
BitBeat
. We also meetup with Bill Butler, a local business consultant and the owner of
Music City Bitcoins
, a local Bitcoin advocacy group.  Our listeners also get to hear about the trials and tribulations of Litecoin mining from Bitcoin And Gravy's own John Barrett. Finally we head back to the studio where we interview Levi Self, a local techie and loyal member of the Nashville Bitcoin Network, about everything from Mining Bitcoins to Zero Bitcoin transactions.
CREDITS:
Paul Vigna: WSJ Columnist: WSJ.com: Money Beat and
BitBeat
,
[email protected]
Bill Butler:
Music City Bitcoins
, Levi Self - Nashville, TN
Interviews for this episode were edited and produced by Elijah "Lij" Shaw at
The Toy Box Studio
, East Nashville, TN
. Assistant to engineer, Dennan "Bosco" Boscarino. Theme song "Gravy" by the band, Eleanor Roosevelt with Lij on fiddle. Harmonica tracks provided by Billy O. Longstreet.
Ode to Satoshi
lyrics & melody by John Barrett Copyright 2014 RJM Publishing - BMI Nashville.
Lead Vocal, Harmony Vocals, Harmonica, Snare Drum: John Barrett Harmony vocals: John Barrett, Connie Sinclair and Lij Shaw Guitar: Jonathan Brown Mandolin: Ben Miller Bass Guitar: Michael Rinne Recorded, Mixed and Mastered at
The Toy Box Studio
in Nashville, Tennessee Engineer: Lij Shaw. Assistant to engineer: Don "The Don" Bates Produced by John Barrett & Elijah "Lij" Shaw Questions or Comments?
Bitcoins and Gravy Hotline:
(615) 208-5198
When you call the Bitcoins and Gravy Hotline, please speak slowly and clearly. Alternatively you can scream into the phone with loud music in the background. Leave us your questions, comments or suggestions about our show. We would love to use your voice on our show. Your feedback is valuable to us. (If you prefer us not to use your voice then please say so on the message and we can simply reply to your question as if it had been written). Email:
[email protected]
General Support Addresses (aka Tipping Addresses):
Bitcoin:
1ByqQXLTm9JZGSwnfqCCakaifBt3grQkXS
Litecoin:
LTwaVGVqzKeKbsfXZCz2g4yJxZj7oPspsX
Views: 1,064