Click to download audio version
Subscribe to the Let's Talk Bitcoin! Network Feed
Show Notes for Episode #9 – Solar Coins, 10,000 Bitcoins and much more!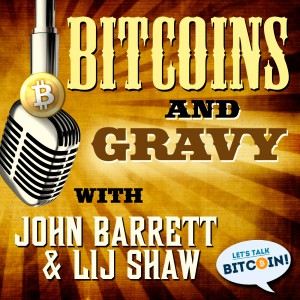 Today is March 31st. 2014 – Welcome to Episode # 9 of Bitcoins and Gravy, a weekly show about anything and everything having to do with Bitcoins and the Bitcoin community. On Today's show we visit Sunny Los Angeles for a chat with
Laura Saggers
, writer of the hit single
Ten Thousand Bitcoins
. Laura talks with us about the essence of love and the true meaning of wealth. She sings praises for the positive support received as an artist in the Bitcoin community and tells us about her experiences in writing a Bitcoin song and reaching out to her fans. Right after the interview, we'll be cranking up the old Bitcoins and Gravy record player again to play you Laura's new single! We also have a lively conversation with Benjamin Wilson a software developer out of Charlotte, North Carolina and co-host of the blog
AltcoinFever.com
. Ben brings with him his friend Kelly Koeppel, an award-winning designer and the founder of the Nashville design firm
k2forma, Inc.
Kelly graciously joins in the conversation to share an outsider's view of Bitcoin. And finally we head up north to the province of New Brunswick in Eastern Canada where we talk with
Joely Balazs
who tells us about Solarcoin, a unique and potentially Earth changing alt coin that is being used to fund the
CNBA Bitcoin Scholarship Fund
, a scholarship for high school students in her hometown. Joely shares with us her insight into the pressing need to cultivate a sustainable future for
Planet Earth
by incentivizing the solar industry and the use of solar energy. Thanks for listening to Bitcoins and Gravy and enjoy the show!
CREDITS:
Interviews for this episode were edited and produced by Elijah "Lij" Shaw at
The Toy Box Studio
, East Nashville, TN, and by John Barrett in his East Nashville man cave. Assistant to engineer, Dennon "Bosco" Boscarino. Theme song "Gravy" by
the band, Eleanor Roosevelt
with Lij on fiddle. Harmonica tracks provided by Billy O. Longstreet. Questions or Comments?
Bitcoins and Gravy Hotline: (615) 208-5198
Leave us your questions, comments or suggestions about our show and please speak slowly and clearly. We would love to use your voice on our show and your feedback is valuable to us. (NOTE: If you would rather we
did not
use your voice, please say so on the message and we can simply reply to your question without using your voice). Email:
[email protected]
Website:
BitcoinsAndGravy.com
Bitcoins and Gravy Tipping Addresses:
Bitcoin:
1ByqQXLTm9JZGSwnfqCCakaifBt3grQkXS
Litecoin:
LTwaVGVqzKeKbsfXZCz2g4yJxZj7oPspsX
Views: 1,511