Click to download audio version
Subscribe to the Let's Talk Bitcoin! Network Feed
Show Notes for Episode #8 – More From the Texas Bitcoin Conference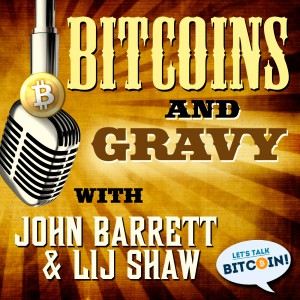 Today is March 24
th
. 2014 – Welcome to Episode # 8 of Bitcoins and Gravy, a weekly show about anything and everything having to do with Bitcoins and the Bitcoin community. When we first arrived at the conference we were fortunate to meet up with Kelly Neal the founder of
CryptoWomen World Wide
. Kelly is working to further Bitcoin education and career opportunities for women worldwide. Then we met up with Brian Page, the well spoken Marketing Director for
Invictus.io
. Brian talks to us about Bitshares, Angel Shares and the promising future of Decentralized Autonomous Companies or DAC's. We also had the great pleasure of sitting down with New Jersey singer/songwriter Tatiana Moroz about her popular new Jingle, The Bitcoin Song
and
about her love of Bitcoin for its philosophical and political capabilities. And finally, we caught up with our good friend Jimmy Song of
Colored Coins
who gave us some insight about The Search for Satoshi Nakamoto and told us about his experience as a competitor in the 2014 Texas Bitcoin Hackathon there in Austin, Texas Thanks for listening to Bitcoins and Gravy on the Let's Talk Bitcoin Network!
CREDITS:
Interviews for this episode were edited and produced by Elijah "Lij" Shaw at
The Toy Box Studio
, East Nashville, TN. Assistant to engineer, Dennon "Bosco" Boscarino. Theme song "Gravy" by
the band, Eleanor Roosevelt
with Lij on fiddle. Harmonica tracks provided by Billy O. Longstreet. Questions or Comments?
Bitcoins and Gravy Hotline: (615) 208-5198
Leave us your questions, comments or suggestions about our show and please speak slowly and clearly. We would love to use your voice on our show and your feedback is valuable to us. (NOTE: If you would rather we
did not
use your voice, please say so on the message and we can simply reply to your question without using your voice). Email:
[email protected]
cryptowomen.org
facebook.com/cryptowomen
twitter.com/cryptowomen
Tatianamoroz.com
Bitcoins and Gravy Tipping Addresses:
Bitcoin:
1ByqQXLTm9JZGSwnfqCCakaifBt3grQkXS
Litecoin:
LTwaVGVqzKeKbsfXZCz2g4yJxZj7oPspsX
Views: 1,341