Click to download audio version
Subscribe to the Let's Talk Bitcoin! Network Feed
Show Notes for Episode #6 – Buying Gold, Silver & Real Estate with Bitcoins!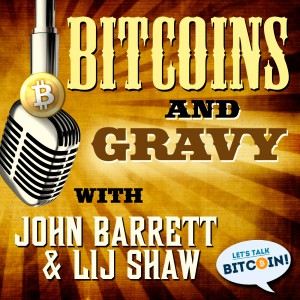 Today is March 10, 2014 – Welcome to episode 6 of
Bitcoins and Gravy
, a weekly show about anything and everything having to do with Bitcoins and the Bitcoin community. We are
John Barrett
and
Lij Shaw
– two Bitcoin enthusiasts who love to talk about Bitcoin and share what we learn with you the listener. On today's show, Lij and I talk with Rob Michael of
Coinstax.com
about how to buy Gold and Silver with Bitcoin – and the implications this has on the intrinsic value of Bitcoin. Then we travel to Austin, Texas for the Texas Bitcoin Conference and a sneak preview of what's to come over the next couple of weeks on Bitcoins and Gravy. And finally we sit and talk with Matt Einheber of
Vista Abstract
– a Title Company out of Philadelphia, PA that enables people to buy and sell real estate with Bitcoin!
CREDITS:
Robert Michael of
Coinstax.com
Matt Einheber of
Vista Abstract
– a title company out of Philadelphia, PA
Interviews for this episode were edited and produced by Elijah "Lij" Shaw and John Barrett at
The Toy Box Studio
, East Nashville, TN
. The theme song "Gravy" for Bitcoins and Gravy was generously provided by the band Eleanor Roosevelt. Go here to hear more:
https://itunes.apple.com/us/album/walker-with-his-head-down/id269344447
Questions or Comments?
Call the Bitcoins and Gravy Hotline: (615) 208-5198 Leave us your questions, comments or suggestions about our show and please speak slowly and clearly. We would love to use your voice on our show. Your feedback is valuable to us. (NOTE: If you would rather we
did not
use your voice, please say so on the message and we can simply reply to your question without using your voice). Email:
[email protected]
General Support Addresses (aka Tipping Addresses):
Bitcoin:
1ByqQXLTm9JZGSwnfqCCakaifBt3grQkXS
Litecoin:
LTwaVGVqzKeKbsfXZCz2g4yJxZj7oPspsX
Views: 1,295