Click to download audio version
Subscribe to the Let's Talk Bitcoin! Network Feed
Show Notes for Episode # 11: More GREAT Platforms and Apps to make Bitcoin Life a Little Easier for All of Us: Coinjabber, Bit.co.in, SpendBitcoins.com, Coinsplit.io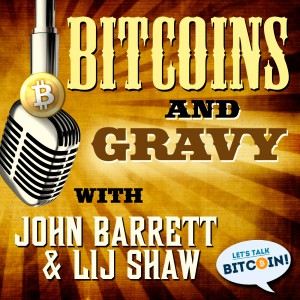 Today is April 14th. 2014 – Welcome to Episode # 11 of Bitcoins and Gravy, a weekly show about anything and everything having to do with Bitcoins and the Bitcoin community. On today's show we talk with James Roten and Nima Mahdjour, the brainpower duo behind the very popular
Coinjabber.com
, a rating and review platform that's helping to strengthen the Bitcoin community in countless ways.  They also tell us about another exciting new innovation called
bit.co.in
– a convenient way to shorten your bitcoin address safely and securely using the Namecoin blockchain. Next we travel down under to the land of kangaroos, wallabies and cookoo birds. For a quick but informative discussion with Jeremy West, the founder of 
SpendBitcoins.com
. We learn more about building a Bitcoin community and bringing merchants and consumers together. Our final stop is Russia where we speak with Ivan – the developer of Coinsplit - a unique way to split bitcoin payments. For more about Coinsplit visit
coinsplit.io
to set up a sharing address. Be advised that 
We do not recommend sending large amounts of bitcoin to coinsplit in single payments! 
This is a tool that can split incoming payments that briefly live on the coinsplit wallet and therefore is open to miss use. It can also take up to 30 minutes for the amount to appear in the Coinsplit wallet. However as with all Bitcoin wallets the transactions are transparent and the history of the wallet can be inspected by anyone. While Coinsplit can be very useful for splitting smaller amounts where the risk of loss is not significant and the sent amounts are distributed quickly. it should not be considered a safe place for large amounts. Also you can make the distributions public or private and name each destination wallet address as well. At The Toy Box Studio we have created a series of
Stereo Sessions videos
with donation addresses that split tip shares between the studio and artists. You can also find the splitting addresses at the
Coinsplit public scheme here
. If you enjoy the music then please consider tipping the artists in support, and thank you! Thanks for listening to Bitcoins and Gravy and enjoy the show!
CREDITS:
http://coinjabber.com
http://bit.co.in
facebook.com/coinjabber twitter.com/coinjabber
[email protected]
SpendBitcoins.com
Coinsplit.io
Interviews for this episode were edited and produced by Elijah "Lij" Shaw at
The Toy Box Studio
, East Nashville, TN, and by John Barrett. Assistant to engineer, Dennon "Bosco" Boscarino. Theme song "Gravy" by
the band, Eleanor Roosevelt
with Lij on fiddle. Harmonica tracks provided by Billy O. Longstreet. And a big thank you to our sponsor
Miktek Audio
for providing the fantastic
PM9 microphones!
Questions or Comments?
Bitcoins and Gravy Hotline: (615) 208-5198
Leave us your questions, comments or suggestions about our show and please speak slowly and clearly. We would love to use your voice on our show and your feedback is valuable to us. (NOTE: If you would rather we
did not
use your voice, please say so on the message and we can simply reply to your question without using your voice). Email us to say Howdy!:
[email protected]
Visit our NewWebsite:
BitcoinsAndGravy.com
Bitcoins and Gravy Tipping Addresses:
Bitcoin:
1ByqQXLTm9JZGSwnfqCCakaifBt3grQkXS
Litecoin:
LTwaVGVqzKeKbsfXZCz2g4yJxZj7oPspsX
Views: 1,360