Click to download audio version
Subscribe to the Let's Talk Bitcoin! Network Feed
Show Notes for Episode # 10: Nashville Bitcoin Meetup & Bitcoin Tax Advice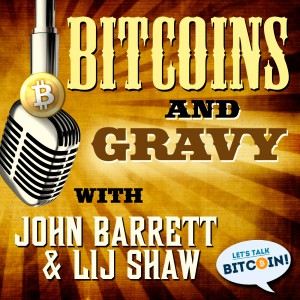 Today is April 7th. 2014 – Welcome to Episode # 10 of Bitcoins and Gravy, a weekly show about anything and everything having to do with Bitcoins and the Bitcoin community. On Today's show we talk with our good friends John Meese and Luke Stokes, two key players in Nashville's growing Bitcoin community. John and Luke share with us their experiences thus far in building a Bitcoin community - right here in Nashville
- from the ground up.
We also talk with California tax attorney Tyson P. Cross with BitcoinTaxSolutions.com regarding the IRS ruling and how that might affect Bitcoin use and adoption in the short and long term. Thanks for listening to Bitcoins and Gravy and enjoy the show!
CREDITS:
Tyson P. Cross, Esq:
BitcoinTaxSolutions.com
Nashville Bitcoin Network
Nashville Bitcoin Meetup
Luke Stokes:
Foxycart.com
John R. Meese:
JohnRMeese.com
Interviews for this episode were edited and produced by Elijah "Lij" Shaw at
The Toy Box Studio
, East Nashville, TN, and by John Barrett in his East Nashville man cave. Assistant to engineer, Dennon "Bosco" Boscarino. Theme song "Gravy" by
the band, Eleanor Roosevelt
with Lij on fiddle. Harmonica tracks provided by Billy O. Longstreet. Country guitar strumming for Bitcoin Wisdom by Chad Brown And a big thank you to our sponsor
Miktek Audio
for providing the fantastic
PM9 microphones!
Questions or Comments?
Bitcoins and Gravy Hotline: (615) 208-5198
Leave us your questions, comments or suggestions about our show and please speak slowly and clearly. We would love to use your voice on our show and your feedback is valuable to us. (NOTE: If you would rather we
did not
use your voice, please say so on the message and we can simply reply to your question without using your voice). Email us to say Howdy!:
[email protected]
Visit our NewWebsite:
BitcoinsAndGravy.com
Bitcoins and Gravy Tipping Addresses:
Bitcoin:
1ByqQXLTm9JZGSwnfqCCakaifBt3grQkXS
Litecoin:
LTwaVGVqzKeKbsfXZCz2g4yJxZj7oPspsX
Views: 1,192