Subscribe to Let's Talk Bitcoin! for free to automatically download new episodes.

Shownotes for Episode 41 – Bitcoin in Real Life
What's up with the Price Difference Between Mt. Gox and Everybody Else?
Stephanie Interviews George Mandrik (www.mandrik.com), An agorist merchant and one of the earliest bitcoin accepting merchants
Satoshi's Forest or Why It's Good to Pay A Mortgage with Bitcoin
Bitcoin ATMs (or vending machines), where they make sense, what what a competitive future might look like
Episode 41 specific Tip addresses
Bitcoin: 15ZDDAgCbjMHUuQnPdmapvmP7DRmqes1Tu
Litecoin: LM694z3BdwVjLXWyViMZqTYPiNxFNUqGPF
General LTB Support Address:
1LTBShowv5nZ2fgZ4hWU7ieeDRNKSAxtov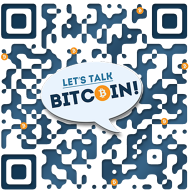 By
Adam B. Levine
15ZDDAgCbjMHUuQnPdmapvmP7DRmqes1Tu
Why You Should Tip Our Writers
Let's Talk Bitcoin is powered by volunteers doing good work through the Cryptocurrency ecosystem, and sharing their experiences with the community as a whole. If you found this article to be valuable, please send a bitcoin tip which will go straight from your wallet directly to the wallet of the writer. No middle men. No payment processor. Pure Value for Value. Thank you for supporting our model!
7 Pingbacks