Subscribe to Let's Talk Bitcoin! for free to automatically download new episodes.

Shownotes for Episode 39:
Todays episode is a two-parter. In Segment one, Youll hear my talk from the Inside Bitcoins conference that took place in Manhattan on the 30th of July. In it, I lay out my findings on content monetization with Bitcoin several months after diving into the space, and propose the open source platform that will allow any community to leverage Cryptocurrency as a way to build self-sustaining, net productive communities on the internet.
In Segment Two (This one) We take a trip in the way-back machine, to an authors@Google talk given in early 2007 by Rod Beckstrom, a very smart guy and one of the authors of a pivitol book in my personal journey to understanding Bitcoin called The Starfish and the Spider: The Unstoppable Power of Leaderless Organizations. This hour long talk about decentralized organizations came years before Bitcoin applied those same concepts to money, but the driving force and inherent attributes are the same.
I've decided to present today's show Ad free, so send us a tip if you want to support our model. Enjoy the show,
Listener Support Addresses:
Episode 39
Bitcoin: 1FM1K2BRfrGSJEWK8AU6HjMFf3mDhBoeUF
Litecoin: LhkLSUAxCsMgc5qZWPvCCq6c2VkoW9F3yC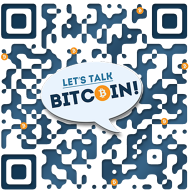 General Support Address:
1LTBShowv5nZ2fgZ4hWU7ieeDRNKSAxtov
By
Adam B. Levine
1BdmrFtJhEesx8E5XYeQ7KoDcMtkMX7moS
Why You Should Tip Our Writers
Let's Talk Bitcoin is powered by volunteers doing good work through the Cryptocurrency ecosystem, and sharing their experiences with the community as a whole. If you found this article to be valuable, please send a bitcoin tip which will go straight from your wallet directly to the wallet of the writer. No middle men. No payment processor. Pure Value for Value. Thank you for supporting our model!
One Pingback